The Centurion slot machine is certainly a great experience created by Inspired Gaming. Centurion slot UK is themed around Rome, with fun and exciting colorful interactions to be made. When starting the game you will be greeted by chiseled chins and razor-sharp jawlines in a Roman-themed utopia. Let's explore the Centurion slot further in this Centurion slot machine review.
Centurion Slot Details
The Centurion casino slot is based on ancient roman times with the slogan Maximus Winnus being clear. Centurion is a 5-reel, 20-pay line slot with bright colors and an exciting experience. With a betting margin between 0.20 to 250.00, this game will provide different levels of excitement and intensity. Centurion slot bonus consists of Prize on Parade, Caesar's Free Spins, Road to Rome, and Wild Power Spins. This game has a theoretical return to player (RTP) rate of 95% and is played at medium volatility. 
How To Play Centurion
The Centurion online slot machine as stated is a 5 reel by 20 line slot game that is easy to understand in a short time. To start playing, we must first set our bet by clicking the "total bet" button to increase and decrease your wager. All 20 lines of the Centurion online slot are fixed so you don't need to worry about deactivating or activating lines. Payouts are made by matching three or more symbols across an active pay line and all payouts are made in accordance with the paytable.  
Centurion Characters and Features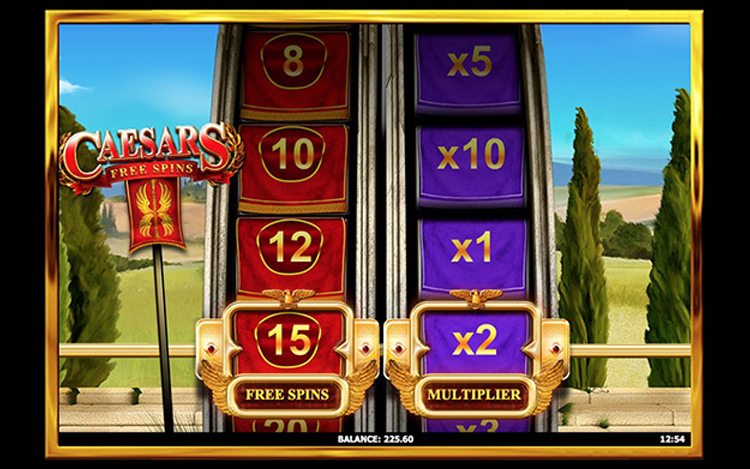 The full name of the online slot is Centurion Maximus Winnus, and is based on the famous Roman warriors with lead Centurion Maximus. Centurions were the professional Roman Troops. These professional soldiers were the heads of their units and they were in charge of leading their soldiers into battle. Centurions would lead their entire unit and their warriors into battle making them very respected members of Roman society. This shows that Inspired Gaming was looking to really show off this personality in their Centurion slot and Centurian slot bonus game. 
Centurion Slot Game Features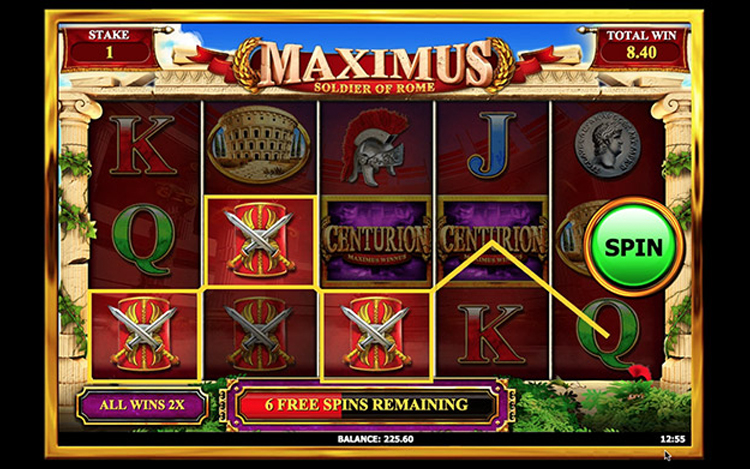 Prizes on Parade
During Prizes on Parade, three Centorians will appear with shields littered with arrows, multipliers and a "collect" option. The flashing light will stop on the spot of the first shield if you hit the "stop" button. A multiplier gives you a prize, while the arrow moves you to the next level. However, landing on "Collect" will finish the round, no longer allowing for additional wins. 
Caesar's Free Spins
The number of multipliers and spins awarded in the Centurion slot will be determined by spinning two wheels.
Caesar's Free Spins
The spins awarded to the player will be determined by the spinning of two wheels. 
Road to Rome
This Centurian slot bonus round will ask you to roll a dice to advance your Centorians forward. While you travel there will be more and more important multipliers to be had and the round will eventually come to a conclusion when all dice rolls have been used. If your journey takes you to the end or you land on the "Go To Rome" square, you'll be escorted to Rome where a large final prize will be waiting for you.  
Wild Power Spins
When you play centurion slot you might receive the bouse feature of Wild Power Spins which is free spins. On the first spin reel, two are entirely wild, on the second reel one and two are wild, and finally on the third, reels one, two, and three are all wild. Good luck. 
Centurion Verdict
We thank you for reading this Centurion slot review. We hope that by reading this Centurion online slot review you have all the information you need. You can play Centorian either online or via the Centuria mobile slot at Mega Casino making it fantastic for payability everywhere. Good luck soldier!