Thor: Trials of Asgard brings the Nors God, Thor to life in a way that players will have never seen before. Those who know Thor as a big muscled Australian will get to see a whole new take on the character here, as Green Valley Games uses him as inspiration for Thor: Trials of Asgard online slot game.
The game combines stunning graphics with a selection of special features and bonus rounds to help players claim victory and get their hands on some of Thor's riches.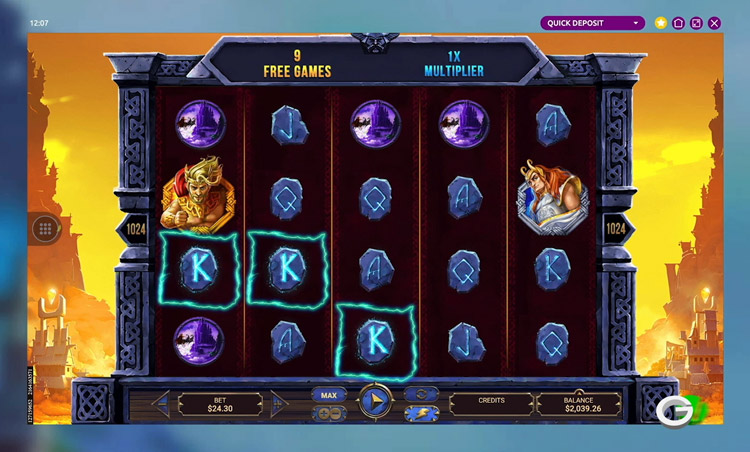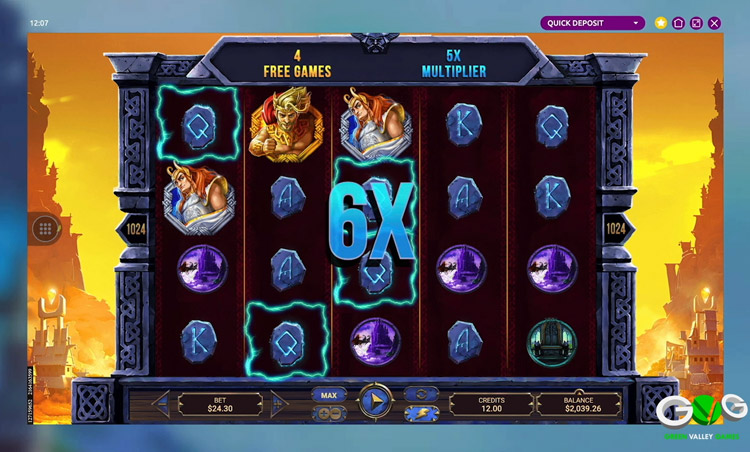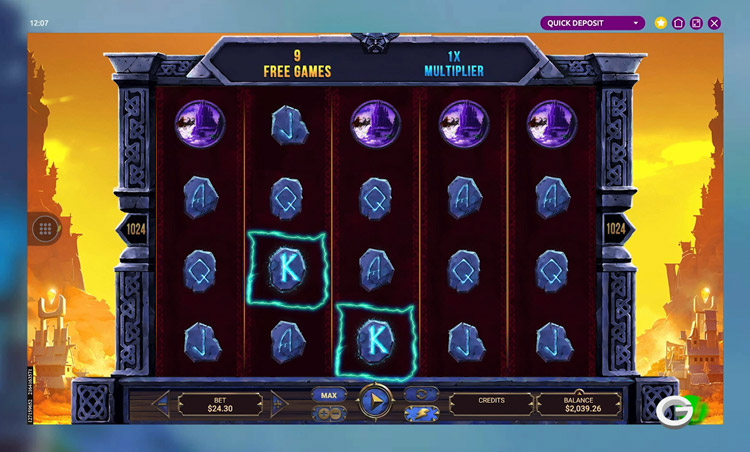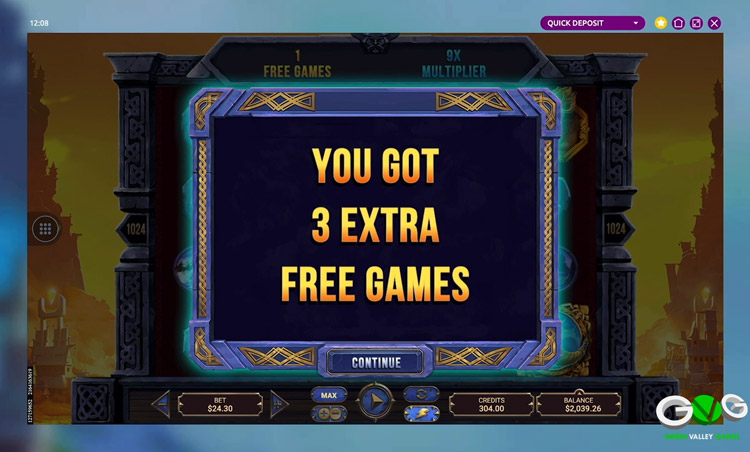 Thor: Trials of Asgard Game Description
Thor: Trials of Asgard is a 5 reel slot game with an impressive 243 different ways to win on offer. The game was designed by the team at Green Valley Games.
Like Thor himself, this game looks absolutely fantastic on the outside, and it is also packed with some excellent powers and strengths. The game has a big selection of special features available and players can get their hands on up to 32,000x their original stake if the Gods decide to shine down on them.
Fans of Nors mythology will instantly recognise the game's backdrop as the mythical Asgard. The stunning kingdom has been the online slot treatment, with the beautiful mountains of the world towering over either side of the screen as you spin the reels.
How to Play Thor: Trials of Asgard Slot Online
You don't have to be an all powerful Nors God in order to get to grips with playing Thor:Trial of Asgard. The gameplay here is very simple and is designed to be easy to understand. When you load the game up, the first thing you will need to do is choose your stake using the +/- buttons which are located underneath the slot. The minimum amount that a player can wager here is £0.10, while the maximum amount is £20.
The symbols on the slot all tie into the game's theme, with Thor, Loki, Asgard, a dragon, some Asgardian children, and the classic poker symbols J-A occupying the reels. Thors Hammer and a giant Asgardian horn also make an appearance as two of the game's special symbols.
Thor's Hammer is the game's wild symbol and can be substituted for other symbols in order to create winning combinations. Wild combinations in the game can come in three different sizes - small, medium, and large. This can also see the reels of the game expand, providing players with a mouth-watering 1,024 ways to get their hands on some cash.
The game also has a dynamic reels feature. This will turn one of reels either 2 or 4 completely wild, which can lead to some potentially big winning opportunities.
Thor is a generous god though, and the fun doesn't just stop there. The game also has a free spins feature which players can access by landing three of the game's scatter symbols on their reels. Players can win more free spins if they manage to land a scatter during these rounds.
Meet the Thor: Trials of Asgard Characters
Thor has become a popular character in popular culture here and players know exactly what to expect these days. The muscular god is the main character in this slot and he looks just as you'd expect. His long blonde flowing hair is very easy on the eyes and his trusty hammer also makes an appearance as one of the game's key symbols.
Thor is not the only Asgardian to make an appearance on the reels. His mischievous little half-brother Loki also makes an appearance here. This is not the Loki that players are expecting though. He is not some snivelling coward here, instead, he is a God whose physique is more than enough to match his brother's. He is instantly recognisable thanks to his signature horned suit and armor.
The more mythical elements of Asgard are also represented here, with a long green dragon making his presence felt as one of the higher paying symbols in the game.
Thor: Trials of Asgard FAQ
What is the maximum bet for Thor: Trials of Asgard?
The maximum bet is 20.
What is the minimum bet for Thor: Trials of Asgard?
The minimum bet is 0.1.
Can I play Thor: Trials of Asgard on mobile?
Yes, you can.
What is the RTP of Thor: Trials of Asgard?
The RTP is 96%.
What is the biggest potential win for Thor: Trials of Asgard?
The biggest potential win is 500000.
Thor: Trials of Asgard Slot Game on Mega Casino
If you are looking for an exciting slot game that mixes Nors Mythology with brilliant gameplay features and plenty of opportunities to win, then Thor: Trials of Asgard is the game for you. Here at Mega Casino, we are always looking for more new and exciting titles to add to our collection and this is one of the best yet.