Get your sunglasses at the ready as you prepare to enter a rainbow coloured world full of beautiful imagery and prizes aplenty. Reel Rush online slot game is ready to daReel Rushle you and give you plenty of opportunities to get your hands on some cash.
If you are looking for a unique gaming set-up that is full of colour and fun, then Reel Rush online slot game is here to fulfil your needs. The game was developed by NetEnt and is one that is ready to take you outside your comfort zone and provide you with an exciting gaming experience.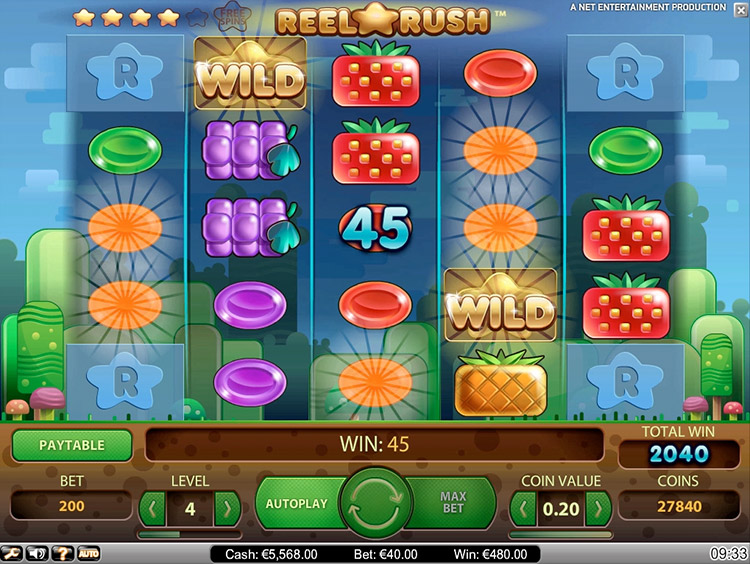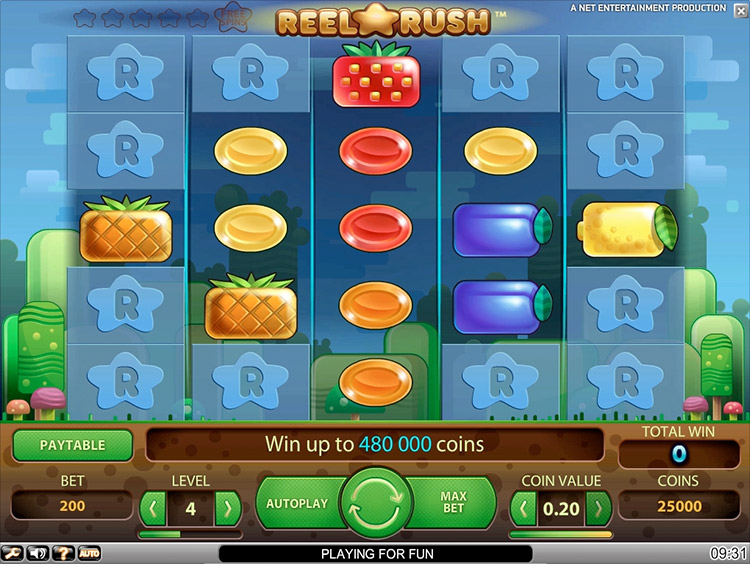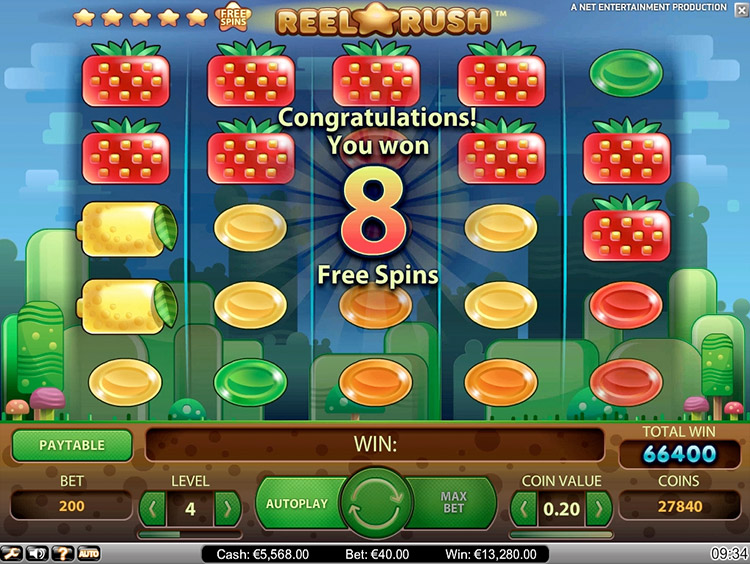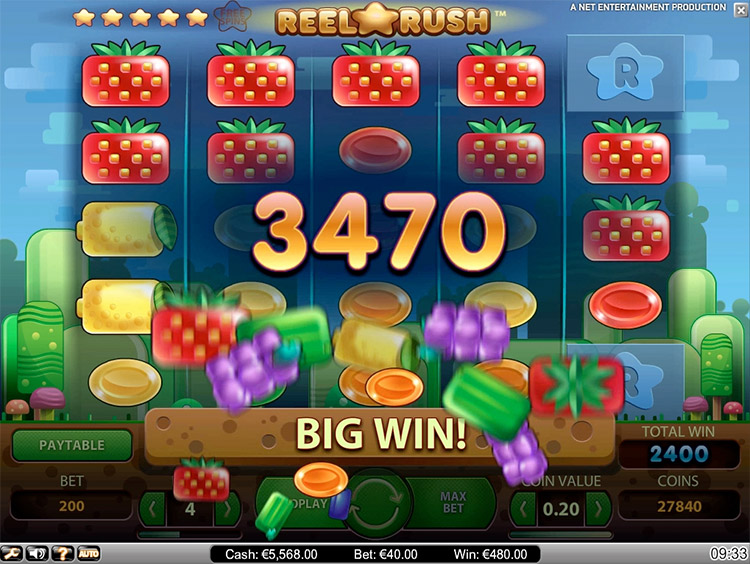 Reel Rush Game Description
Reel Rush is an innovative 5x5 video slot developed by the team at NetEnt. The game takes inspiration from popular mobile gaming apps like Candy Crush and immerses players in a weird and wonderful candy-coloured world that is a feast for the eyes and ears. Players of these mobile apps are going to fall in love with everything that this delightful online slot game has to offer.
Reel Rush online slot takes place in a bright world that has been inspired by early-mid 1990s platform video games. It draws its inspiration for its soundtrack from a similar source, inviting you to play with an infectious and upbeat set of tunes that really get you in the mood to spin those reels.
How to Play Reel Rush Slot Online
Getting to grips with Reel Rush's unique gameplay and innovative design couldn't be easier. Despite the game's unique reel design, getting started is nice and simple. The first thing you will need to make sure you do is to select your coin and stake size. The game has a whole range of different betting options available for players. There are 10 different bet levels and the coin range ranges from 0.01 to 20.
Reel Rush online slot is full of attention-grabbing imagery and colours but the thing that will grab your attention the most is the incredible 3,125 ways you can win when playing this game.
One of the other things that makes Reel Rush slot online stand out from the crowd is its unique reel-configuration. When the game first starts, not all of the spots on the reels will be active. There is 1 symbol on the first reel, 3 on the second reel, 5 on the third reel, 3 on the fourth reel and 1 on the fifth reel, the reels then become unlocked as the game goes on. Free spins and re-spins are often the best way of unlocking most of the reels.
Once you have got to grips with the unique set-up and innovative gameplay of Reel Rush, you can then shift your focus to the game's array of special features. The game's wild symbol will land on reels 2,3,4, and 5 and will generously turn into any other symbols in order to create winning combinations and secure you some big prizes.
The game also has various re-spins and free spins available. Once you have unlocked 5 re-spins, a free spins round will be triggered where you will be granted eight free spins. If all 5 of your reels are active at this point, then you will be able to spin for a chance to win the game's 480,000 coins jackpot!
Reel Rush also allows you various options to customise your playing experience to how you want it. The game has a unique stop spin feature which allows you to stop a spin whenever you feel like you want to. It also has a great auto-spin feature for those who want to put their feet up and let the reels do the work for them.
The game's colourful adventure is not just limited to desktops either. The game has been optimised to work on mobile devices including phones and tablets. It is supported by both Android and IOS operating systems.
Meet the Reel Rush Characters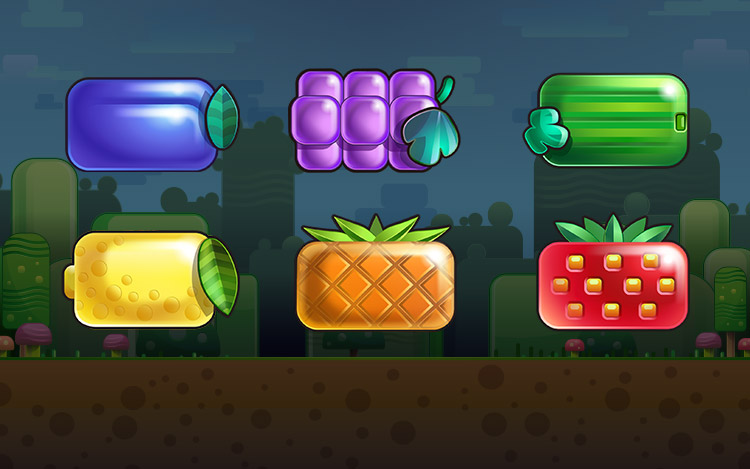 Reel Rush is not your traditional everyday online slot game, and as such, don't expect to see themed characters or themes like you would in a normal slot.
The game is instead populated by a wonderful array of colourful fruit. Blueberries, strawberries, lemons and pineapples occupy the game's reels as well as various other eye-poppingly bright game symbols. These little pieces of fruit live in a wacky and candy coloured land that looks as though they could have been ripped straight from an early 1990s game console.
Reel Rush FAQ
What is the maximum bet for Reel Rush?
The maximum bet is 100.
What is the minimum bet for Reel Rush?
The minimum bet is 0.5
Can I play Reel Rush on mobile?
Yes, you can.
What is the RTP of Reel Rush?
The RTP is 92.05%.
What is the biggest potential win for Reel Rush?
The biggest potential win is 250000.
Reel Rush Slot Game on Mega Casino
Reel Rush is a bright and innovative online slot developed by one of the most trusted companies in the industry. It boasts visuals that are easy on the eye, an infectious soundtrack and innovative gameplay that you won't find on any other online slot.
To top it all off, Reel Rush online slot game also boasts an incredible amount of pay lines and an array of special features that ensure you will get a real rush while playing the game.