Prepare to take a journey back in time, all the way to Ancient Egypt where you will encounter the God of the Sky, Horus. Find out if Horus and his all-knowing eye can help you in your quest for riches in this innovative online slot game.
Developed by the team at Blueprint Gaming, Eye of Horus Megaways online slot takes all of the classic elements of the original Eye of Horus slot and combines with the exciting and innovative Megaways gameplay mechanic. This exciting new feature expands the number of pay lines in the game, providing players with more opportunities to get their hands on some prizes.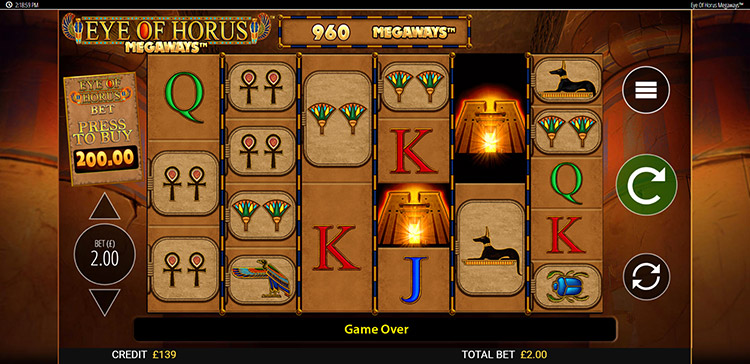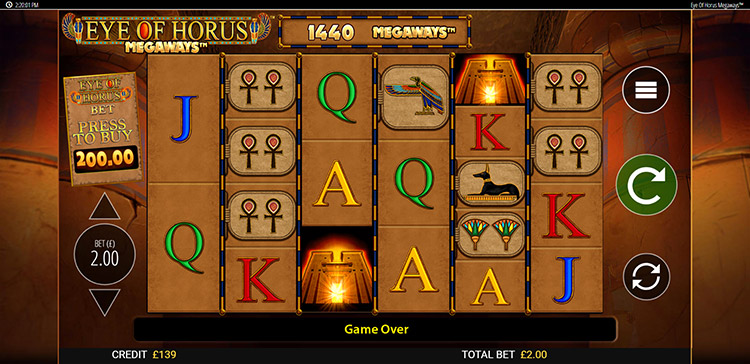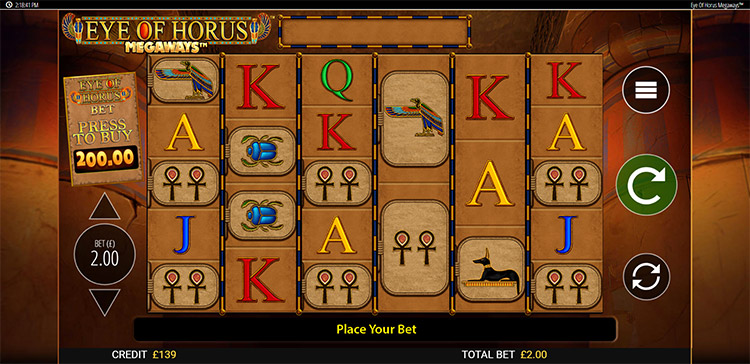 Eye of Horus Megaways Game Description
Eye of Horus Megaways slot online whisks you away into the world of Ancient Egypt in your quest for cash. The game does an excellent job of immersing players in this iconic time period thanks to some simple but effective designs and a brilliant soundtrack.
The reels to the game are set on some sandstone slabs, parts of which fall away whenever you spin the reels or land a big win. The game is also accompanied by Arabian nights inspired soundtrack, further helping you immerse yourself into this ancient world.
Those who have played the original Eye of Horus slot will be delighted to hear that the game itself has managed to maintain all of the charm and simplicity that made it such a hit. The Megaways mechanic slots in effortlessly, making for a more exciting gameplay experience.
How to Play Eye of Horus Megaways Slot Online
Eye of Horus Megaways slot takes everything players loved about the original and expands on it. The game has six slots and a mouth-watering 15,625 pay lines thanks to the Megaways mechanic.
Getting started with the game is nice and simple, players can bet between 10p and £10 per line. When they have done this, they need to simply hit spin ad see what the gods have in store for them. The symbols on the reel are all inspired by the game's time-period and they include palm trees, ankh crosses, scarab beetles, eagles and jackal, Horus himself, and the classic J-A poker symbols written in a hieroglyphic style.
The Megaways mechanic is an exciting new feature for the game. This gives a random number of pay lines up to 15,625 on each spin and also features cascading symbols. Whenever a player manages to secure a win, the winning symbols disappear and are replaced with more symbols, providing players with more chances to win.
The game's protagonist, Horus, is the slot's wild symbol and he can be substituted for any other symbol in order to make a winning combination. The game also features a scatter symbol, a golden door. Landing three or more of these in one spin will trigger a bonus round where you will be rewarded 12 free spins. You can also receive a cash bonus of up to 50x your stake if you manage to score some wild symbols during this round.
During the game's free spins round, Horus himself will also become an expanding wild, furthering your chances of getting some big prizes. This also provides the game with the chance to show off its special effects, with Horus becoming animated and shooting light across the reels.
Meet the Eye of Horus Megaways Characters
The character at the heart of this exciting slot game is Horus himself. Horus is the Egyptian God of the sky. Horus is a popular character in Egyptian mythology and is well-known in popular culture. He is classically depicted as a falcon-headed man who sports a unique double crown that was often worn by Egyptian royalty. His all-seeing eye is his most famous feature and is the star attraction in this slot.
While Horus is the only physical character in this slot, the beautiful game design and the immersive soundtrack make Ancient Egypt itself feel like a living, breathing part of the game. The game is so well-designed that you can almost feel the sands of Egypt beneath your feet while you play.
Eye of Horus Megaways FAQ
What is the maximum bet for Eye of Horus Megaways?
The maximum bet is 10.
What is the minimum bet for Eye of Horus Megaways?
The minimum bet is 0.1.
Can I play Eye of Horus Megaways on mobile?
Yes, you can.
What is the RTP of Eye of Horus Megaways?
The RTP is 95.49%.
What is the biggest potential win for Eye of Horus Megaways?
The biggest potential win is 250000.
Eye of Horus Megaways Slot Game on Mega Casino
At Mega Casino, we love having a huge range of different Egyptian inspired slot games to satisfy our customers. Eye of Horus Megaways is one of the most exciting and daring online slots we have, and you are sure to want to keep replaying it over and over again.