Infinite Blackjack from Evolution allows you to play online blackjack UK in a way you never have done before. Thanks to the huge scale of this live game, players can take part in live blackjack games alongside hundreds of other players here at Mega Casino. In Infinite Blackjack, every player starts with the same hand but it is the moves you make with this hand that will determine whether you have any success or not. You can watch other players make decisions thanks to real-time statistics, and take advantage of bonuses like the 'Six-Card Charlie' rule in order to really enhance your playing experience.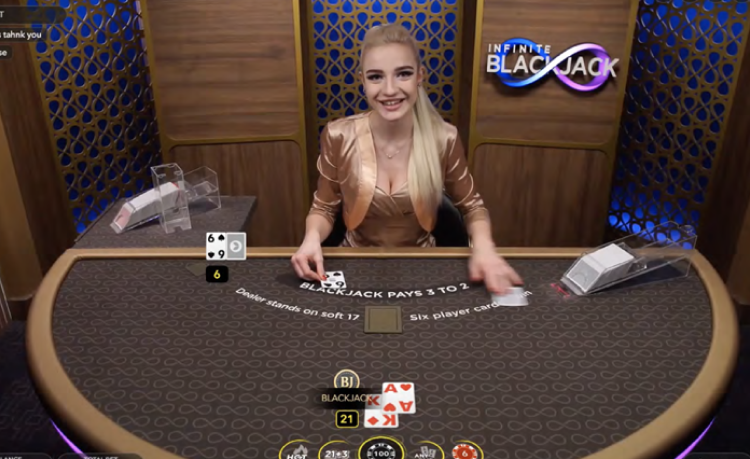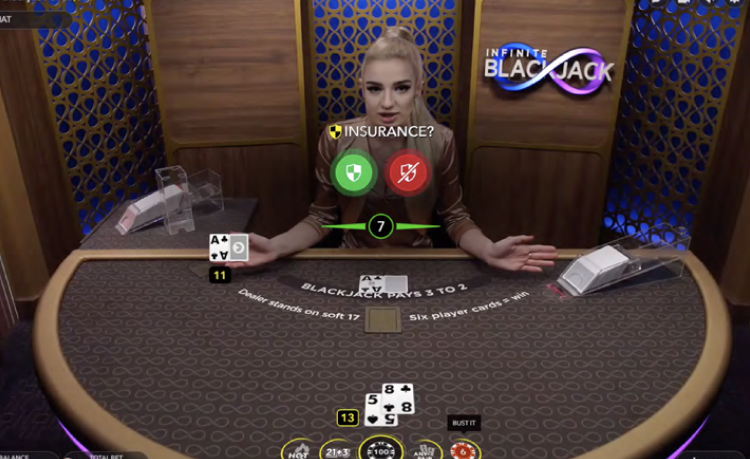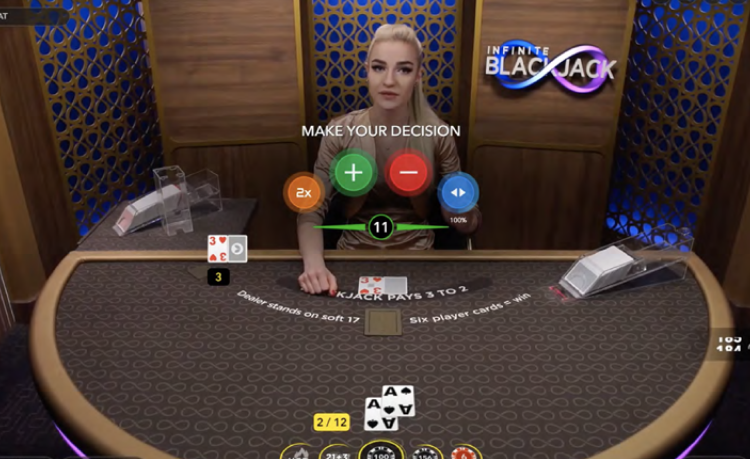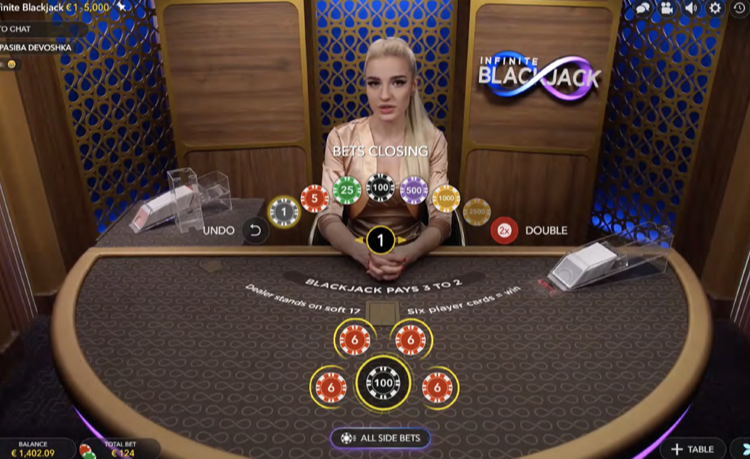 Infinite Blackjack Rules
Getting to grips with how to play Infinite Blackjack won't be too difficult if you know how to play standard blackjack because the rules are exactly the same. The aim of Infinite blackjack is to score a hand that is closer to 21 than that of the dealer without going over. What makes infinite blackjack different from the standard game is the huge number of players who are able to take part in a single game all at once. Standard rules and card values also apply when playing the game. The dealer will hit on 16 or less and stand on a hand of soft 17 or more.
How To Play Infinite Blackjack - The Basics
To play infinite Blackjack, players must first take their virtual seat at the table and join the game. Once they have done this, they can then select their stake size. The dealer will then deal two cards to every player and two to themselves. One of the dealer's cards will be face up, while the other will be face down, hiding its value. Every player in the game will be dealt the exact same first hand. Players can then play the hand as they choose. They are free to stand or hit. The dealer will stand on a soft 17 or higher. As this unfolds, players can see live statistics of what decisions other players have made.
Infinite Blackjack Game Features
"Six-Card Charlie" Rule
One of the main features in Infinite Blackjack is the 'Six-Card Charlie' rule. If a player manages to land a six-card hand that manages to score a blackjack or less , then they will automatically win that round. This is the case regardless of whether or not the dealer has scored a blackjack with their hand.
Four Optional Side Bets
When playing Infinite Blackjack, there are four optional side-bets available that players can also make. They are the following:
Any Pair
Players can bet on their initial two card hand being a pair. This can be two matching numbers or two matching suits, though, there are different payouts for each.
21+3
This allows players to bet on the combination of the two cards they have in their hand and the dealer's upcard. Winning combinations include a suited trips, three of a kind, straight, flush, and a straight flush.
Hot 3
Hot 3 is similar to 21+3. Players bet on certain totals being scored from the two cards in their hand and the dealer's upcard.
Bust It
This side bet allows players to bet on the dealer's hand going bust. Once again, there are various different combinations and payouts for this side bet.
Infinite Blackjack by Evolution Gaming
Evolution Gaming has established itself as one of the most dependable life-casino developers in the industry. The company first opened its virtual doors in 2006 and has since a string of highly coveted industry awards for its live casino game offerings. As well as a big selection of classic card and table games including live roulette, live baccarat and other live blackjack variants, there are also some really fun TV game show titles to play. Among their most popular titles are games like Dream Catcher and Monopoly Live.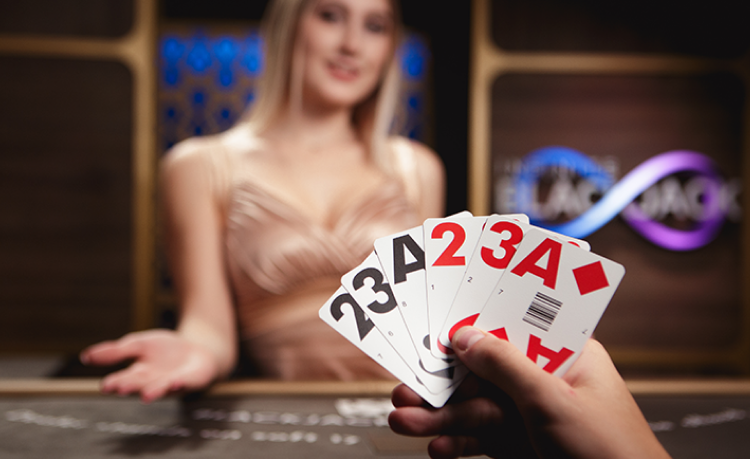 Infinite Blackjack FAQ
Can I play Infinite Blackjack on my mobile?
In short, yes. Evolution has optimised Infinite Blackjack for use on all mobile devices. This includes both phones and tablets. Our mobile casino is supported on a range of different operating systems including Android and iOS. The gameplay is identical on the smaller screen, with Evolution ensuring that the game supports a range of different displays.
Does Infinite Blackjack have the same payouts as standard blackjack?
Yes. The main difference between Infinite blackjack and other blackjack games is the number of players who are able to play in a round.
More Live Casino Games at Mega Casino
If you enjoy playing Infinite Blackjack, then be sure to check out our range of other fantastic live casino titles here at Mega Casino. On top of the brilliant blackjack titles, you can also try your luck on other popular card and table games like roulette and baccarat. If you fancy something a little bit different, then our live game show selection is also very impressive and offers fun titles like Dream Catcher, Monopoly Live, and Crazy Time.