There are many great explorers in the world of online slots, and one of the most underrated is Kane. Kane may not have the most imaginative name, but ELK Studios has crafted some of its most original and exciting slots around him. This includes games like Ecuador Gold and Tahiti Gold. Voodoo Gold is one of the most exciting of the titles, taking players deep into Louisiana swamp land and a world of Voodoo magic. Let's find out what it has in store in this Voodoo Gold slot review. 
Voodoo Gold Slot Details
The series of slots based around Kane are some of the best designed in ELK Studios' catalogue. Voodoo Gold is another example of this. The slot looks fantastic. The symbols on the reels include dice, voodoo dolls, hats, potions, and more. The game's reels are floating around in a murky swamp, with the threat of the swamp animals leaping out at any time. It's a really well-designed and immersive slot. 
How To Play Voodoo Gold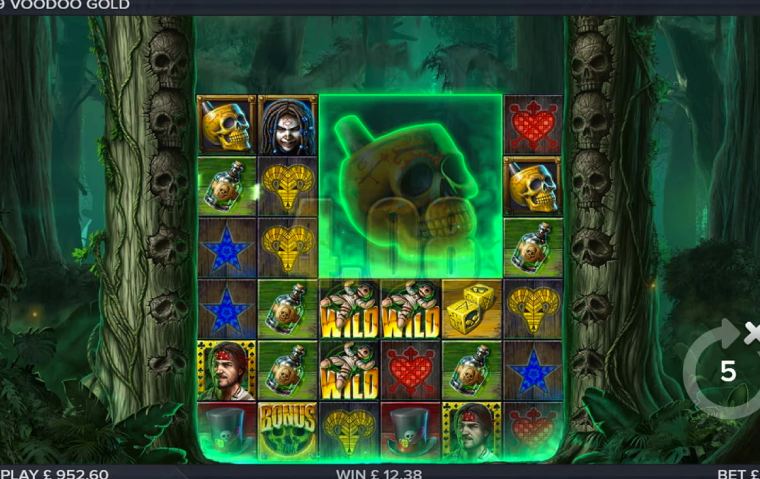 You won't need to understand the dark arts of Voodoo to get the reels rolling here. The slot takes place on a 5x4 grid to start off with, expanding up to a possible 5x8. There are 4,096 ways to win to begin with, and this continues to expand to a very impressive 262,114 during the Voodoo Gold bonus rounds. 
Players can get the reels spinning for £0.20, with a maximum bet of £40 being available. The RTP in the slot is 96.1%. The maximum win that is available is 5,000x the total stake. 
Voodoo Gold Slot Game Features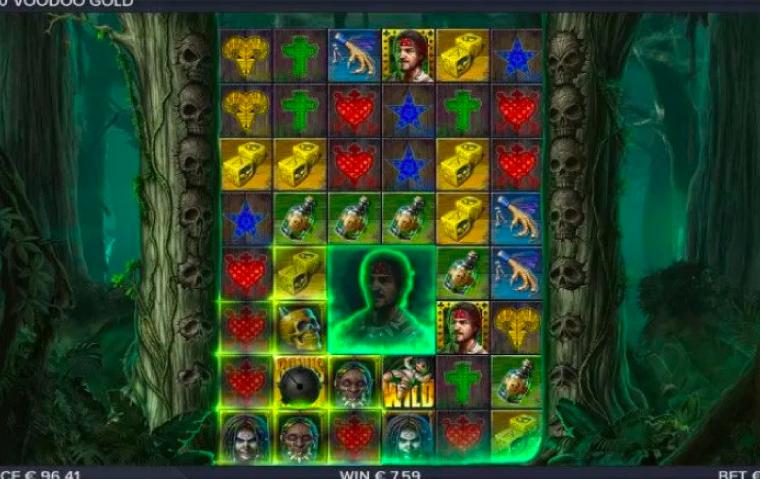 Kane has found himself in plenty of spots of bother over the years, and he has always been able to dip into his bag of tricks to get himself out of them. He does that once again here thanks to the Voodoo Gold bonus features. 
Big Symbols 
All symbols in Voodoo Gold can land in four different sizes. They can either be 1x1, like standard, 2x2, 3x3, or 4x4. This can vary on every single spin. All symbols will count as individual versions of themselves, so a 4x4 Mega Symbol counts as 16 individual symbols. Whenever these land in an Avalanche, they will turn all spaces below them with Voodoo Wilds, leading to some big winning opportunities. 
Bomb & Dual Bomb 
At the end of an Avalanche, a bonus symbol can land and explode. When it does this, it will take out all symbols around it in a diamond shape. This is basically a second chance to start another Avalanche. It is also possible for Dual Bomb symbols to land. 
Bonus Drops 
The Bonus Drops round is launched by landing three or more bonus symbols. Three rewards 6, four give out 9, five give out 12, and six give the maximum of 15. It is also possible to retrigger the bonus. A win in the bonus round can push the reels of the game up by one. It is possible for rhythm to expand all the way up to eight rows high, with a maximum number of 262,144 winning ways. 
Voodoo Gold Verdict
ELK Studios has many great titles in its catalogue, and Voodoo Gold has to be up there as one of our favourites. The adventures of Kane have made for some compelling gaming over the years, and Voodoo Gold has to be one of his most fun outings. The combination of Bonus Drops, Bombs, and Big Symbols makes for a thrilling bit of online slot action and a title we would definitely recommend taking for a spin at Mega Casino.