Help Red Tiger Gaming crack down on crime with the Reel Heist online slot game. In this cops and robbers-themed slot, players join the police as they attempt to catch a bunch of criminals who are running through town with swag-bags over their shoulders. It's a fun premise and in this Reel Heist slot review, we are going to find out whether or not the game manages to offer any else to build on it. 
Reel Heist Slot Details
There is a lot to like about the design of the Reel Heist online slot game. The game's five-by-three reel grid is set in the middle of a town in broad daylight, switching to nighttime when it's time to catch the robbers, but more on that later in this Reel Heist review. The reels themselves are full of cartoon-like symbols representing the police. These include the officer badge, the police hat, some shades, and some handcuffs. It's a really playful design that is brought to life, even more, when the Reel Heist bonus features kick in. 
How To Play Reel Heist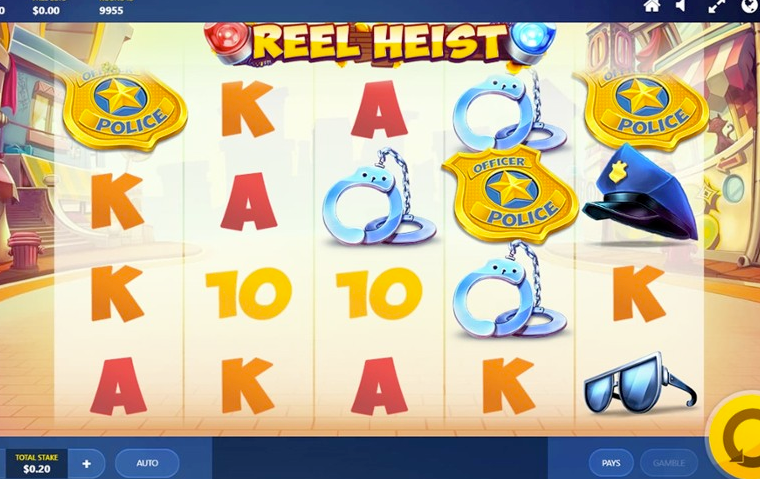 Players will find 40 paylines to try and chase the robbers across in the Reel Heist slot game. These are active on every spin, with players being able to get the slot's 5x3 grid spinning for betting increments between £0.20 and £40, giving this slot a budget-friendly betting range. There is also an auto spin feature if you want to sit back and enjoy the chase. 
All of this also applies to the Reel Heist mobile slot. The game can be played on both smartphones and tablets, and it still manages to maintain its colourful charm and fun when it makes the jump over. 
These robbers are getting away with quite the stash of cash, and there are some good rewards if you are lucky enough to catch them. The maximum win in the game is 2,000x the player's stake, and the RTP Is 96.06%, both of which are the kind of numbers that are going to raise a little smile. 
Reel Heist Slot Game Features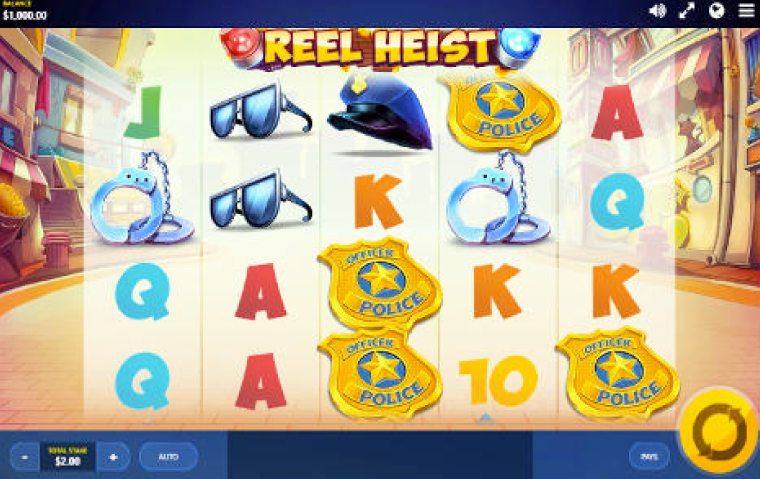 Catching robbers is no easy task. Thankfully, Red Tiger is on hand to help out with a unique Reel Heist bonus feature. 
Reel Heist Cops N Robbers Bonus 
Red Tiger has managed to tie the theme of the game in really nicely with the bonus features available. The Cop wild symbol can land on any spin of the game. If he lands on the same spin as a robber with a wanted sign, then he will give chase. If the cop manages to catch the robber, then the displayed amount will be paid out. He can also throw his baton across the reels to slow the robber down and make things even more exciting. This is a really cool bonus feature that gives the game plenty of personality. 
Reel Heist Verdict
Red Tiger loves to produce fun and quirky slot games, and this is a great example of that. The slot has a really fun theme and it ties in its one bonus feature with that nicely. While some may bemoan the lack of bonus spins, the game more than makes up for it with a maximum win of up to 2,000x the player's stake and a memorable bonus feature that brings the game to life in a fresh way. This is a chase well worth taking part in.