Cluster pay mechanics and cascading wins have become increasingly popular in recent years, and Reactoonz is one of the most iconic slots to use both of these. The slot sends us jetting off into space with a group of mischievous little aliens called the Reactoonz. The game is more than just its quirky design though - it is also full of great bonus features and smooth gameplay mechanics. We are going to break all of that down and more in this Reactoonz slot review. 
Reactoonz Slot Details
When you load up Reactoonz, you could be forgiven for thinking it was a mobile game, such is its unique design. The title unfolds on a 7x7 grid, with no traditional paylines. Instead, the game rewards players for landing clusters of four or more. Each of the little Reactoonz is worth their own value, and you can find out all you need to know about these little critters through checking the paytable. 
The Reactoonz online game has a 96.51% return to player and was given 10/10 by Play'N Go for volatility. Such it the popularity of the Reactoonz game that is spawned a sequel, Reactoonz 2, and a prequel, Dr Toonz..
How To Play Reactoonz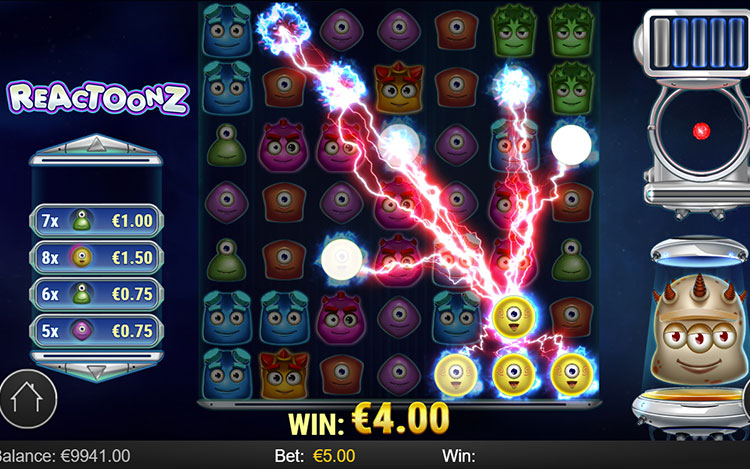 While Reactoonz may use a different pay mechanic to standard slots, it still operates like one for the most part. To start the game, players will need to choose their stake, with the game being played from anywhere between £0.10 and £100, giving this a healthy betting range. 
Whenever players manage to score a win in the game, the cluster will disappear, with more symbols falling into their place creating a cascading effect. This will continue until there are no winning combos left. 
The slot's unique design lends itself perfectly to the small screen as well, with players being able to access the slot on the go on their mobile devices. 
Reactoonz Slot Game Features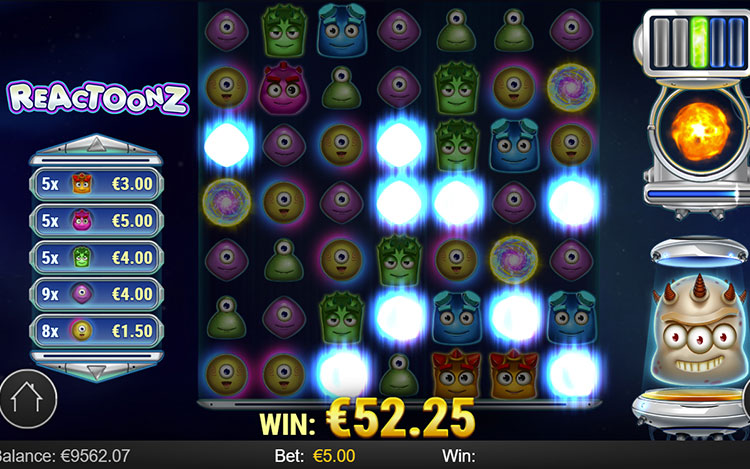 The Reactoonz casino slot has become so popular thanks to a range of innovative features that help further immerse the players in the world that the titular creatures live in. Let's break those down here: 
Quantum Leap Meter
Every time players manage to score a winning combination in the game, it is added to the Quantum Leap meter. When the meter is fully charged, it will provide players with one of the following features at random: 
Implosion:

Transforms up to six symbols into wilds and destroys the surrounding symbols to help score winning combinations. 

Alteration:

This changes one lower paying symbol into a higher paying one across the board.

Demolition:

Destroys all of the lower-paying symbols on the board, creating a cascade effect with higher-paying ones. 

Incision:

A unique feature that adds a wild symbol to the middle of the grid and creates a giant X intersecting the grid and transforming all symbols in its path.



Instability 
Even when you're not winning, the Reactoonz slot game might still throw you a reward. The instability feature can randomly add between 4-8 wild symbols to the reels after any losing spin. 
Gargantuan
The Gargantuan bonus wild symbol is added when you have played through the other four Quantum Leap bonuses. When this happens, a 3x3 wild is added to the reels. This then divides with each win. First to two 2x2 wilds, and then it becomes nine individual wild symbols, creating some good winning opportunities. 
Giantooz & Fluctuation 
If you land four matching symbols in a cluster, they will become a Giantooz symbol. This will then double any wins that feature this giant symbol. Finally, there is also the fluctuation feature which is active on every spin. On each spin, a random low paying symbol is chosen as a fluctuating symbol, if this is part of a winning cluster, then two wild symbols will be left on the reels for the following cascade. 
Reactoonz Verdict
Play N'Go is one of the top developers in the industry, and Reactoonz is one of the jewels in its crown. Upon its release, the slot was an innovative game-changer, and it still holds up as an exciting and engaging title now. The bonus features and unique design complement each other perfectly, and the great casino selection at Mega Casino would not be complete without it.