You will find very few franchises that have remained as popular in the world of online slots as Barcrest's Rainbow Riches. The game series has inspired a range of spin-offs and sequels, and one of the most exciting is the Rainbow Riches Leprechauns Gold slot game. This title once again takes players to the Irish hills where a cheeky little leprechaun challenges you to win some gold. Like all of the Rainbow Riches slot games, this title tries out some new bonus features and has some different gameplay mechanics. Let's take a more detailed look in this Rainbow Riches Leprechauns Gold slot review. 
Rainbow Riches Leprechauns Gold Slot Details
Anyone that has ever spun the reels of an Irish themed slot will have a good idea of what to expect from this game from a visual perspective. The game has an enhanced reel size, with seven reels each playing host to up to five symbols. A beautiful Irish meadow rolls into the background of the slot, with a golden path guiding players through it. The titular leprechaun is the only character you will encounter in the game. He has become the mascot for the Rainbow Riches series and he makes an appearance during the bonus rounds. An Irish jig plays while you're spinning the reels and goes quiet between spins. 
How To Play Rainbow Riches Leprechauns Gold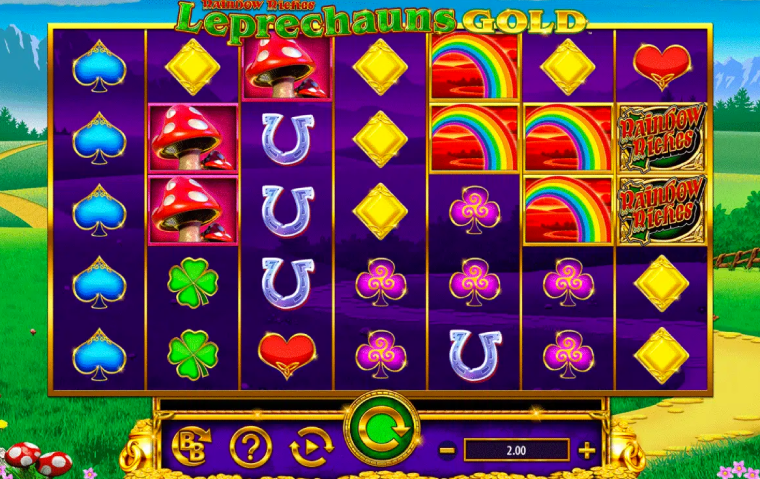 You won't need to have played any of the previous Rainbow Riches titles to get to grips with this one. The game offers 50 paylines, which is more than you would expect to find in most top online slots. The paytable and any information players need are accessed in the control panel underneath the grid. 
Here, players can also change their stake by using the +/- buttons. The Rainbow Riches Leprechauns Gold slot offers a massive betting range, with players able to bet between £0.10 and £500. This will suit all budgets and makes the game an attractive prospect. Its high RTP of 97.75% and its maximum win of 500x the overall stake are also likely to appeal. 
Like all previous entries in the series, the Rainbow Riches Leprechauns Gold slot game is also available on mobile devices. It maintains all of its charm and its gameplay feature on the small screen and can be played on mobile at Mega Casino. 
Rainbow Riches Leprechauns Gold Slot Game Features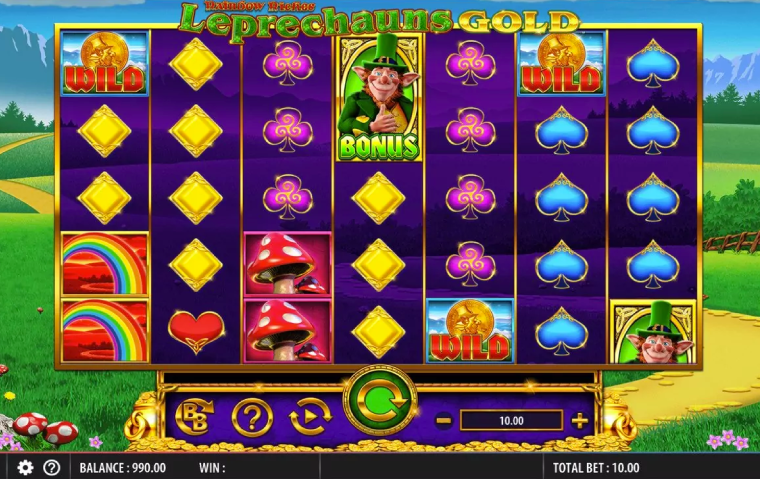 As always, the sneaky little leprechaun holds the key to success in the slot. He is on hand to help with a handful of Rainbow Riches Leprechauns Gold bonus features. 
Lucky Leprechauns Bonus 
The Lucky Leprechauns bonus is launched at random during any base game spin. When this happens, the leprechaun appears on the reels and throws additional bonus symbols into the mix. 
Rainbow Ring Bonus Spinner
The Rainbow Ring Bonus Spinner is triggered when players land three or more bonus symbols. When this happens, a giant rainbow wheel is spun and players will be rewarded with whatever it lands on. This could be one of several bonus features. 
? Bonus 
The aptly titled ? Bonus is one that can be triggered through the spinner. When it is rewarded, multiple ? symbols are added to the reels. These act as mystery symbols and are then rewarded following a win. 
Wild Rover Bonus 
This is also rewarded on the Rainbow Ring Bonus Spinner. For this, wild symbols will take random reel positions and then can expand to help create winning ways. 
Bonus Spins 
If the spinner lands on the bonus spins then players will be rewarded with between 8 and 25 bonus spins. During the round both Wild Rover and ? bonuses can trigger at random. 
Wishing Wheel Bonus 
At the end of the bonus spins round, the Wishing Well bonus appears. Players then get a choice of three coins. This can either add extra bonus spins, multipliers or end the bonus spins round. 
Rainbow Riches Leprechauns Gold Verdict
A trip to Ireland is never a bad idea for an online slot and the Rainbow Riches series knows this better than anyone. The Rainbow Riches Leprechauns Gold slot game is full of great bonus features, good winning opportunities and a charming design. Whether you're a fan of the series or a total newbie, this is a title well worth taking for a spin.