Welcome to our Monopoly Slingo online slot review! This is where Monopoly and Slingo become one to create the epic Slingo Monopoly collaborating both the excitement of monopoly and unique gameplay of Slingo! As you can tell the theme of Monopoly Slingo slot UK is based on the popular board game Monopoly. Here you can win some great cash prizes all while enjoying spinning the reels. 
Monopoly Slingo Slot Details
The aim of the Monopoly Slingo slot is to complete Slingos by achieving different properties around the old-school Monopoly game board. Each property you arrive at grants the color of that property to the Slingo grid removing it. To progress up the Monopoly Slingo Casino slot you will need to complete Slingos so be conscious about hitting those property spaces. 
How To Play Monopoly Slingo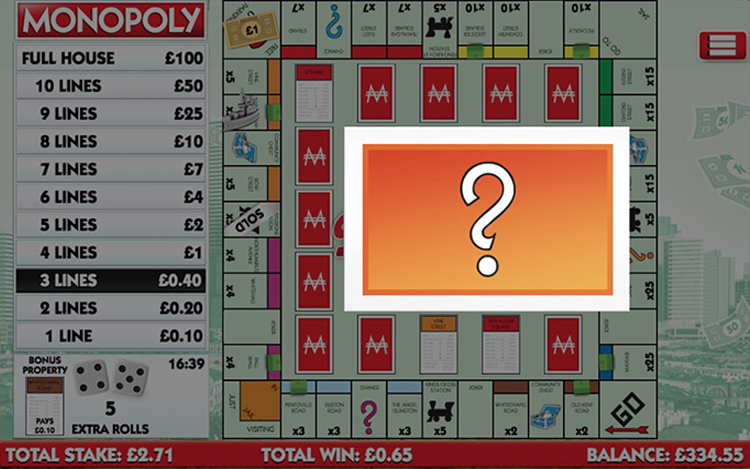 To begin your Monopoly Slingo online slot adventure you must first select the profile you would like to play you do this by selecting the "choose profile" button. The profile you pick will decide the number of dice rolls you get and the prize amount awarded. Once you are happy with your alter ego be sure to see if the stake is right for you. When you are happy all we need to do is click that "start" button and begin our adventure! 
The goal of the Monopoly Slingo casino slot is to move around the board grabbing up as many properties as possible, we do this by landing on their spaces. Each time you land on a property space every color is marked on your Monopoly Slingo slot Slingo grid in the center of the board. When you pass "GO" cash is added to the "Free Parking" space. To collect that stack of cash, just land on the "Free Parking" space. 
As you play you will notice there are "Chance" and "Community Chest" cards in play too. These cards can either be the best blessing or the most annoying cure in the Monopoly Slingo slot machine as they can either provide great prizes or potential penalties! At the conclusion of the game, you can choose to do extra spins if you are not happy with your winnings, alternatively, you can press "collect" to conclude the game. 
Monopoly Slingo Slot Game Features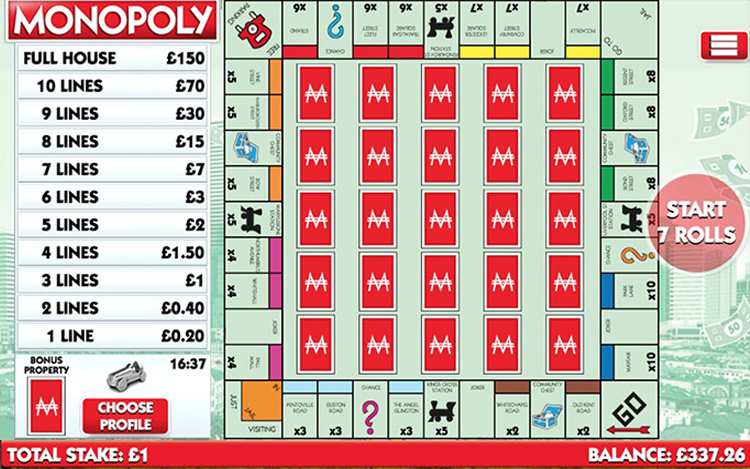 Monopoly Slingo slot bonus provides some fun and interactive gameplay, here are some of the features that you need to look out for:
Mr. Monopoly
The mascot of Monopoly is the one and only man Mr. Monpoly presenting your game, and he will offer you help and assistance when you click the "help" button
Playing Pieces
Monopoly Slingo doesn't tamper with its traditional style and keeps its playing pieces as the all-familiar classic silver icons. 
Jail
Jail isn't good for anyone, the same goes for jail in Monopoly Slingo where landing on the "go to jail" space makes you become stuck for 3 turns. However, you can also be sent to jail by having landed on a Chance or Community chest tile. So be careful!
Extra Rolls
Remember that profile/alter ego we told you about, depending on who you choose depends on the number of extra rolls you will receive. So choose wisely!
Slingo Grid
In the center of the board, you will find your Slingo grid where there will be 25 or 26 properties. The 26th property will be dealt as the bonus property and landing on this will give you an instant cash prize!
Monopoly Slingo Verdict
Thank you for taking the time to read our Monopoly Slingo slot machine review, remember to try out this amazing game at the Mega Casino website or on the go via Monopoly Slingo mobile slot platform too. We recommend giving it a go and seeing if you and Mr. Monopoly can work together to win!