There are few historical figures that lend themselves to the world of online slot design quite like Grigori Rasputin. The iconic Russian mystic has been reimagined in so many different ways in the century since his death, and his mystical aura continues to capture the imagination of creatives all around the world. Merkur Gaming is one such group of creatives that have been captivated by him. Their Magic Monk Rasputin slot game brings him to life in an entirely new medium and it offers some unique and memorable gameplay befitting of Rasputin. In this Magic Monk Rasputin slot review, we will break down everything we know about this title and see what tricks it is hiding. 
Magic Monk Rasputin Slot Details
The red sky of Russia fills the backdrop of this game, while a slight mist also helps to create an air of mystery and intrigue. The reels of the game have a traditional look, taking place on a  4x3 grid. Immediately to the right of the reels are three ladders which are integral to the gameplay. 
Rasputin himself makes a typically haunting experience. His face can appear at intervals throughout the game, often signalling a loss for players. The rest of the reels are filled with Faberge eggs and other symbols commonly associated with early 20th Century Russia. 
How To Play Magic Monk Rasputin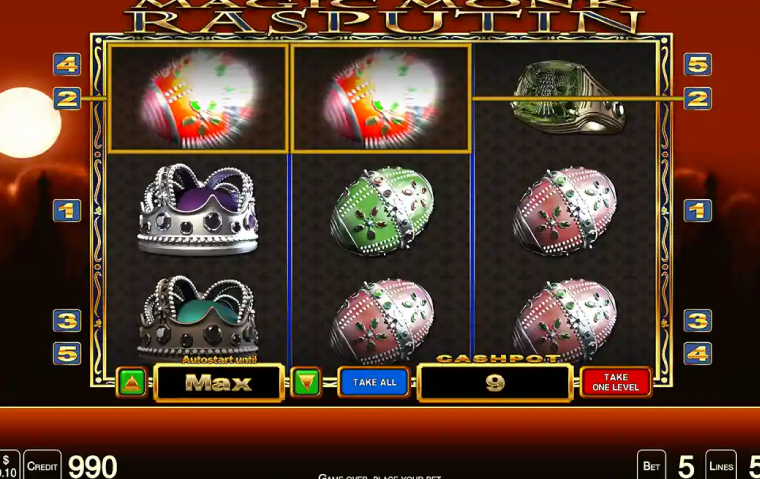 Rasputin was famously very tricky to read, and when you first load up the Magic Monk Rasputin slot, you could be forgiven for thinking the mystic has pulled some of his tricks here. The game has a unique set-up, with the small 3x3 offering just five paylines. Where things get a little more complicated is with the three gamble ladders that sit on the right-hand side of the reels.
Merkur has opted for a simple, low-stakes style game here. The minimum wager is £0.02 per line, totalling £0.10, and a maximum of £1 per line, coming to £5. This is the kind of slot that is going to appeal to those on smaller budgets. The game offers a solid RTP of 96.2%, putting it marginally above average. 
The Magic Monk Rasputin slot is also portable and can be played on different platforms and devices. The slot's simple set-up works well on mobiles and tablets.  
Magic Monk Rasputin Slot Game Features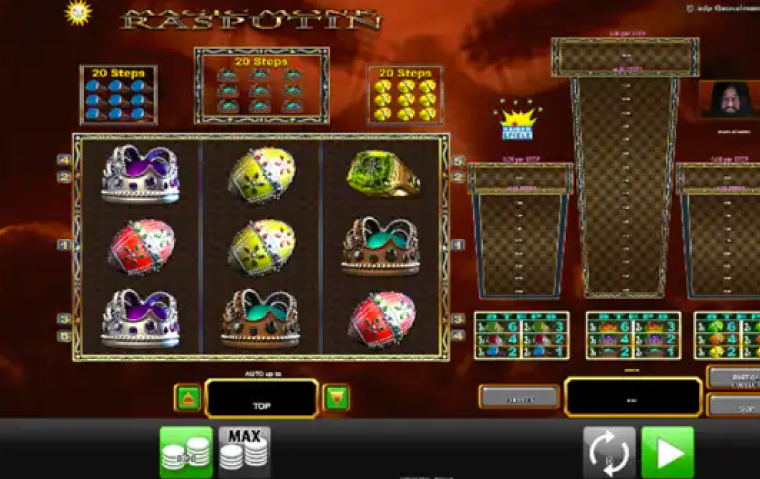 Rasputin is a man who was all about surprising his followers. Merkur Gaming has added a few surprises to the Magic Monk Rasputin slot gameplay. While the bonuses may be simple, they can still help to boost your winnings. 
Gamble Ladder 
Whenever you score a win in the Magic Monk Rasputin slot game, you can gamble it on the three ladders on the right-hand side of the grid. Players can collect portions of their cash and then continue to climb the three ladders to see what prizes Rasputin has to offer them. The maximum prize is 2,500x your line bet, which is 500x your overall stake. 
Gamble Game 
As well as the ladders, players also have the chance to gamble with the more traditional 50:50 style card game. For this, players will need to guess the colour of an overturned playing card. If they are correct, their money will double. If they are wrong, they lose it all. 
Magic Monk Rasputin Verdict
Fans of simple, low-budget slot games are going to find a lot to enjoy with the Magic Monk Rasputin game. The title keeps things nice and basic for the most part, but the addition of the ladders means that there are plenty of good winning opportunities and some slightly more engaging gameplay available. Book a date with Rasputin at Mega Casino and see what riches he has to offer.