When it comes to Asian themes for online slot games, Hong Kong often finds itself taking a backseat. This is unfortunate because the iconic city is one of the most extravagant and exciting in the world and it is also home to one of the world's most ancient cultures. Thankfully, ELK Studios has spotted the potential of the city and has based the Hong Kong Tower slot game on it. Let's take a look at the game in this Hong Kong Tower slot review. 
Hong Kong Tower Slot Details
The Hong Kong Tower slot, unsurprisingly, is set to the backdrop of the great city itself. A giant skyscraper window provides the backdrop for the game's 5x3 grid. It gives the whole experience a glossy and stylish feel and really helps it to stand out from the pack. 
ELK has opted to take a slightly different approach with the symbols on the reels though. Instead of images related to Hong Kong and its culture, players will find visual representations of earth, wind, fire, and water. Rest assured though, there are still a few Asian inspired images here, with the lotus flower and Bonzai tree both making an appearance. It's a well-designed slot with plenty of visual flair that rates a memorable experience. 
How To Play Hong Kong Tower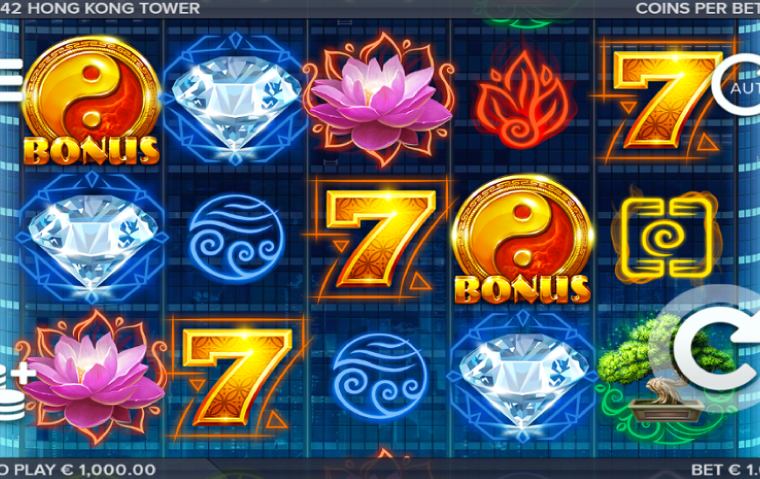 As we have mentioned in this Hong Kong Tower review, the slot takes place on a 5x3 grid, which is fairly standard. What is not fairly standard though, is the increased number of paylines on offer. The slot has 99 paylines that are active on every spin, which is certainly higher than the average online slot. 
To get started, players will simply need to select their stake. The betting range here is solid, with players being able to wager between £0.20 and £100. The game also features the standard autospin feature, allowing players to take up to 100 spins. 
The slot boasts a strong RTP of 96.3%, this is backed up by a maximum win of 3,016x the overall stake. Both of these numbers are strong and help Hong Kong Tower stand out even more. The game's stylish look also transfers nicely to mobile and looks great on both phones and tablets. 
Hong Kong Tower Slot Game Features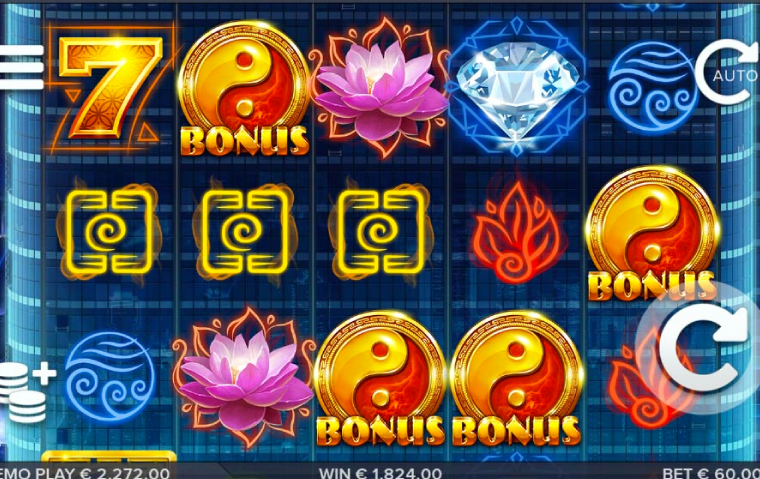 Hong Kong is a city that has plenty of surprises hiding in its streets. It's only fitting then that a slot game based on the city also has a few surprises up its sleeve. 
Wheels of the Sky 
The Wheels of the Sky bonus takes players high above the Hong Kong skyline and challenges them to spin a bonus wheel. This feature is launched by landing three or more scatter symbols. The game has a progressive feature, with three different bonus wheels being on offer. Each bonus wheel contains cash prizes and chances at further spin. 
Hong Kong Tower Verdict
The Hong Kong Tower online slot game from ELK Studios does a fantastic job of whisking players away to this Eastern city and immersing them in its modern culture. This is a game that shows off the bright lights of modern Hong Kong while also paying tribute to its past. As well as this, it also boasts some great gameplay mechanics and features. The Wheels of the Sky bonus is particularly lucrative and is a big selling point for the slot. Take a trip to Hong Kong from the comfort of your own computer or mobile at Mega Casino.