Blackjack is one of the most famous card games in the world. The game is played in casinos all over the globe and is available at hundreds of different online casinos. The game has endured thanks to its simple premise and its enjoyable nature. In this handy guide, we are going to run through everything you need to know about blackjack, including the basic rules, useful side bets, and a few tips and tricks. It is important to remember that there is not one magic solution for how to win at a game like blackjack, but players can learn basic blackjack strategy in order to try to minimise their losses.  In this guide we are going to look at some of the most basic elements of the game and provide some useful examples for you. 
Basic Blackjack Rules
The game of blackjack is one of the oldest and most iconic in the world. While there are many different versions of the game - the classic version sees players attempt to beat a dealer in a bid to score the number 21, or get as close to that as they possibly can. The game traditionally starts with players being dealt two cards, and the dealer also having two cards.The dealer will have one card face up, and the other face down. The player will then get to make a decision as to whether to stand or hit. If the player goes over 21, then they will go bust. 
Card Values
Getting to grips with how to play blackjack is very straight forward. As we've already discussed, the aim of the game is to score 21 and to beat the dealer. The game is played with a standard deck of cards and the value of the card is simply its face value. The royal cards - King, Queen, and Jack, are all worth 10, while an Ace can be worth 1 or 11, whichever is most beneficial for your hand. For example - if you have a Jack and an Ace, then it will be blackjack, as the jack is worth 10, and in this example, the Ace would be 11. If, however, you had a 10, 9, and an A, then the Ace would be worth 1 because if it was 11, you would go bust.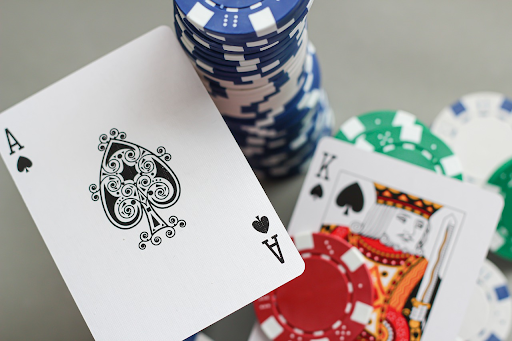 Photo from Pixabay
21 Card Game
The game of blackjack is also occasionally referred to as the game of 21. This is because, as we have mentioned, the aim of the game is to score 21. If you can not score 21, then the player who is closest to 21 will win. For example, if a dealer has a queen and a 7, then they have 17, and if the player has a king and an 8, then they have 18 and therefore win this round of the game. 
The Dealer's Hand
In the game of blackjack, beating the dealer is your priority. The dealer will deal two cards to each player and themselves. They will then turn one of their cards over and leave the other face down. Once the player has made their decision and is finished with their hand, the dealer's card is turned over. If the total is 17 or more, the dealer will then stand. If it is 16 or lower, then the dealer will continue to hit. The dealer's decisions from then on are automatic, they will continue to hit until they are either go bust or have higher than 17. 
Hit or Stand?
Once you have been dealt your hand, and the dealer has turned over their hand, the player will then be confronted with the option to hit or stand. To stand means to take no further cards and to stay with the total that you have, while to hit means to ask for an extra card in an attempt to score or get closer to 21. You must make your decision wisely, as making the wrong decision can cost you the round. For example, if you are dealt a 10 and a queen, then you should definitely stand, as the only way you can score a blackjack is by being dealt an Ace.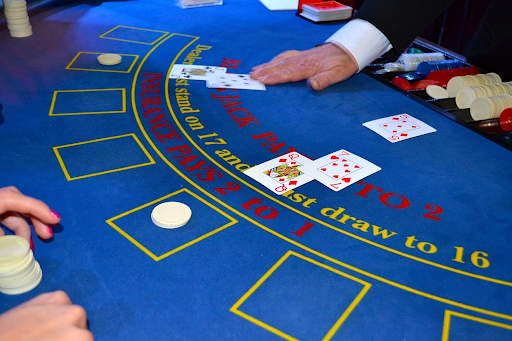 Photo from Pixabay
Splitting Rules
If a player is dealt two cards of the same denomination in their first hand, they are then given the option to split their hand. This will then create two separate hands and the same bet will be applied to each. For example, if a player has a £1 bet and they are drawn two 8s, they can then choose to split their hand - this would mean they now have two hands worth 8 each and will be betting £2 instead of £1. A second card will be drawn for each hand. Splitting your hands can be a great strategic move and could reduce your chances of losses. For example, in the previous situation, it is always advisable to split a hand of two 8s. The reason for this is that 16 is not a favourable hand, as anything dealt above five will make you bust. This means you have more than a 50% chance of going bust with your next card. 
Blackjack Double Down Rules
The double down move in blackjack is an exciting move but it's one that players need to think carefully before making. Doubling down allows the player to double their bet during a round - however, once they have done this, they can only be dealt one more card. This is always an interesting move to make and players should think carefully, especially if they are dealt a card that is too high or low. Players should study blackjack strategy to know when the best opportunities are to double down. 
Blackjack Surrender Rules
Surrendering sounds like a negative move, but when executed correctly, it can be a very clever way of protecting your bankroll. To surrender in blackjack is when you give up your hand following the initial dealing if you believe you have little chance of winning. When you do this, you will only lose half of your stake. This can be a clever way of protecting your losses. 
Payouts in Blackjack
The standard win for winning a round of blackjack is 1:1. However, if a player is lucky enough to land a blackjack from their first two cards, also known as a natural, then they will be paid out at 3:2. This is the standard amount that a casino should pay out for a game of blackjack.
Online Blackjack Live Dealers at Mega Casino
If you want to try your hand at blackjack for the first time, or you're an experienced blackjack player, then we have plenty to offer you here at Mega Casino. Our online and live blackjack collections are bursting with variety and great gameplay features. Our live casino blackjack offerings are streamed directly to your devices using HD streams and our dealers are all top professionals with years of blackjack experience under their belts.