Mega Ball is a hugely innovative online game show from the team at Evolution. This exciting game features a ball-drawing machine containing 52 numbers, with players tasked with choosing which numbers they think the number is going to draw for them. The game broadcasts live from one of Evolution's brightly coloured studios, with a host taking players through the game. Of course, the fun doesn't stop there, with Mega Ball live casino game coming with a host of special features and bonus rounds which can also provide players with more winning opportunities.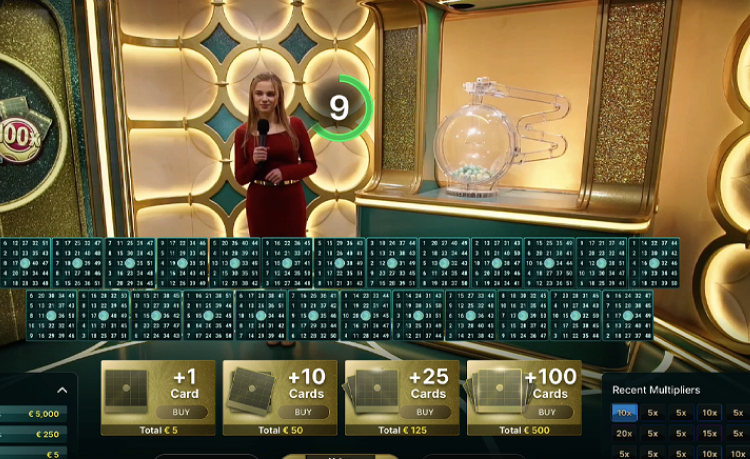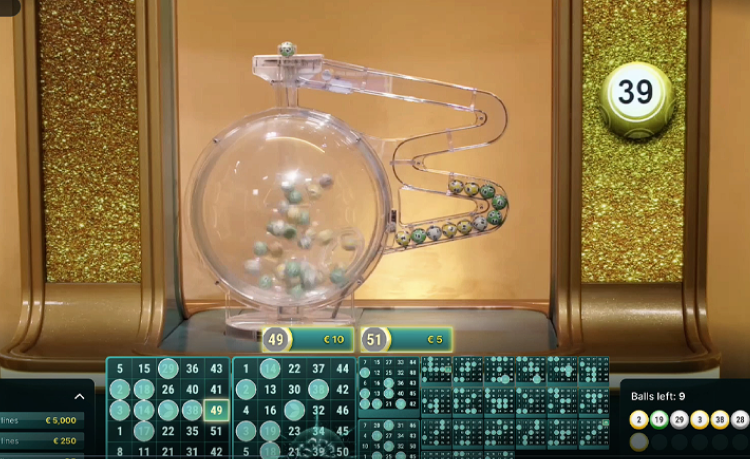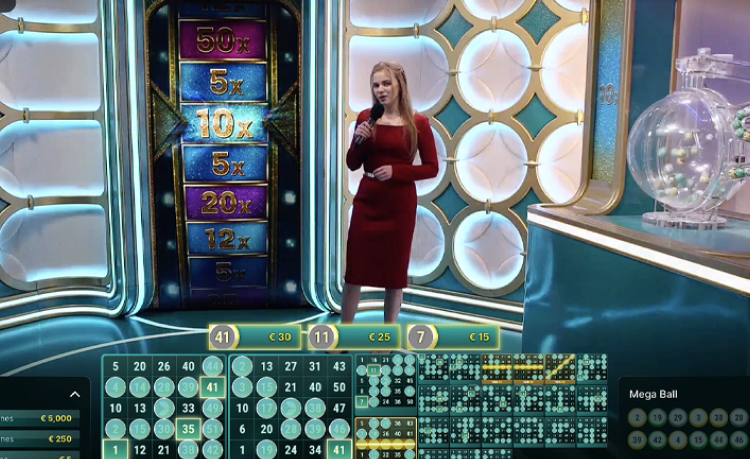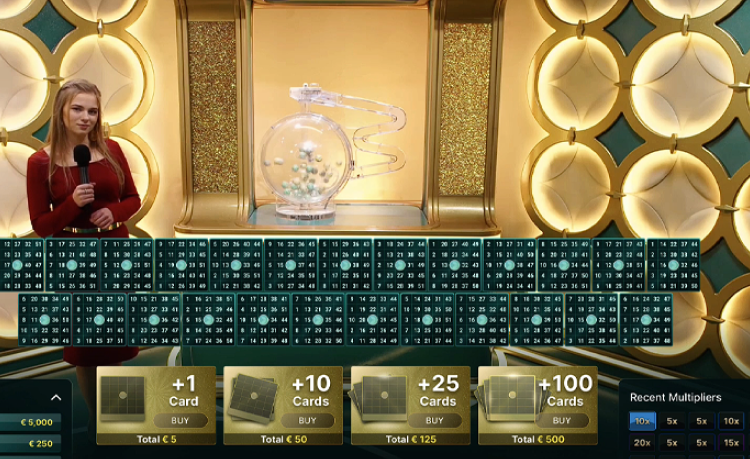 How To Play Mega Ball
Mega Ball is a fast paced and exciting online game show which plays like a mix between standard versions of lottery and bingo. The game involves players buying cards and attempting to get as many lines as possible. The numbers on the cards are produced by a custom built ball machine that resembles something you would see in a lottery game. Each card is on a 5x5 grid with 24 randomly generated numbers. Each number is marked off as the mega ball casino produces balls. The player wants to make vertical, horizontal and diagonal lines of five numbers to win. There are as many as twelve chances to win from one card.
The player can decide how many cards they want to buy with up to 200 cards being allowed for one game. During the Mega Ball live betting period players also decide the value of each of their cards which can range from £0.10 to £100. Players can also examine any individual card and reorder the numbers if they wish. The ball machine contains 51 balls and once betting is over the machine quickly produces 20 balls . Players don't need to worry about scrolling through their cards though, as the game will automatically mark off any winning numbers that you might have.
While this sounds like it may be difficult to keep up with, the user interface makes it really easy to understand the winnings of each of the player's cards, what numbers the player needs to win and potential winnings. Once the final ball has been drawn, the Mega Ball bonus rounds begin.
Mega Ball Live Bonus Rounds
If the base game wasn't already interesting enough, the game also features some great bonus rounds which add multipliers into the mix. After the main game has finished the Mega Ball live machine generates a ball which determines the Mega Ball number. If the Mega Ball number completes any line on any of the player's cards then the payout on that card is multiplied by the value of the Mega Ball number. If the Mega Ball number doesn't complete any lines then it serves simply as a regular number and does not multiply any payout. If players have two Mega Balls completing a line then unfortunately it doesn't compound but the payout is multiplied by the biggest multiplier.
Once this round is complete the players cards are sorted. Losing cards are discarded, while winning cards remain on the screen. The cards will always be ordered with the highest payout listed first.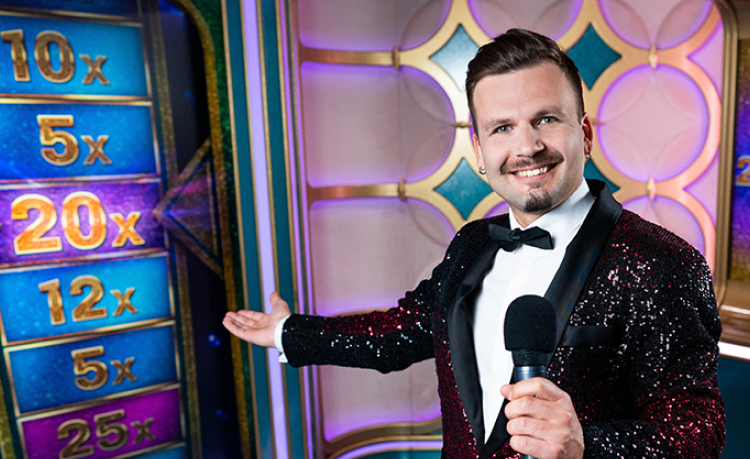 Mega Ball Live by Evolution Gaming
Evolution Gaming is one of the most respected live casino developers in the gambling world. The company opened its doors in 2006 and wasted no time in establishing itself as the company to turn to for an exciting live casino gaming experience. Over the years, the company has continued to expand and they now operate out of live studios all around the world in huge hotspots like Malta, Spain, and Belgium.
Here at Mega Casino, we are proud to offer a huge selection of Evolution's live casino products. The live gaming experience that they offer continues to excite online players and they are constantly looking at new ways of doing this. As well as titles like Mega Ball, players can also try their luck on live versions of classic card and table games like roulette, blackjack, baccarat, and more.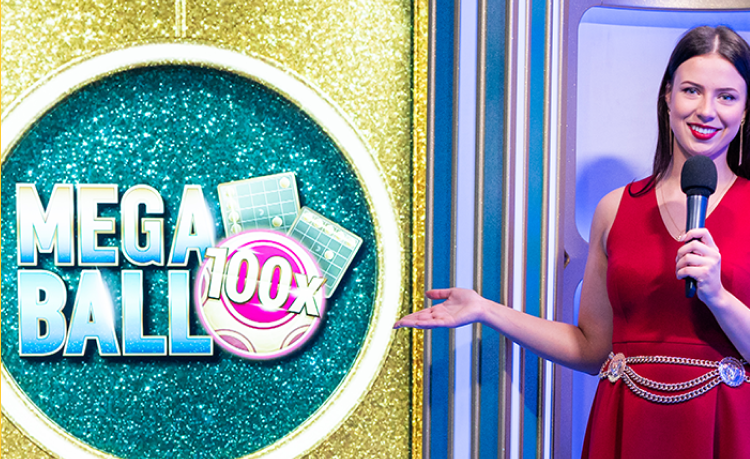 FAQ About Mega Ball
What is the RTP of Mega Ball?
The optimal return to player of Mega Ball live is 95.40%.
Can I play Mega Ball on my mobile?
Yes. Evolution has ensured that all of their live casino products have been optimised for use on mobile devices. It doesn't matter whether you are playing Mega Ball on an Android or iOS operated device, you will be able to play. The game's interface can adapt to fit on any screen size.
Is Mega Ball safe & fair?
Yes. Here at Mega Casino, we only work with developers who provide safe and fair gaming options for our customers.
More Live Casino Games at Mega Casino
Mega Ball is just one of many exciting online game show titles we offer here at Mega Casino. Thanks to our relationship with Evolution, we are able to offer a great selection of other live TV show games including popular titles like Dream Catcher, Monopoly Live and much more. When you're done playing Mega Ball, head over to our live casino games page to see what else we have to offer.