Dream Catcher is an exciting big money wheel game from the team at Evolution Gaming that aims to make your dreams come true. This live casino brings the excitement of a big wheel to your computer or mobile, providing players with plenty of opportunities to get their hands on some prizes. Stocked with special features and unique gameplay options, this really is the stuff that gambling dreams are made of.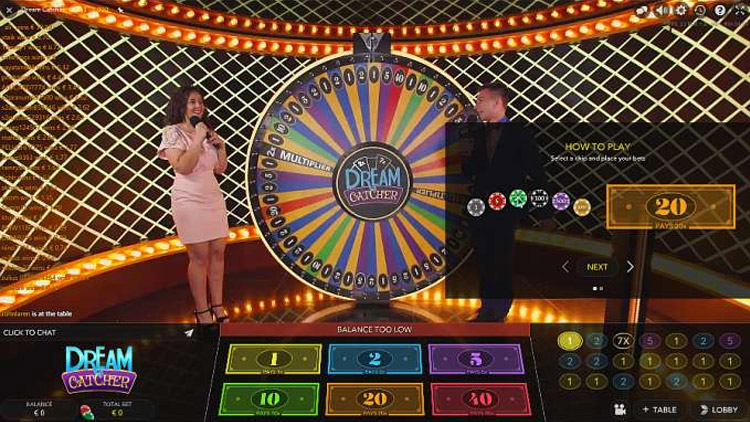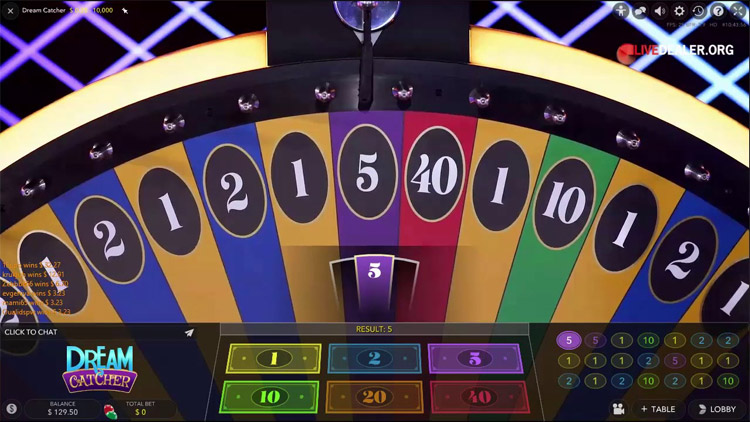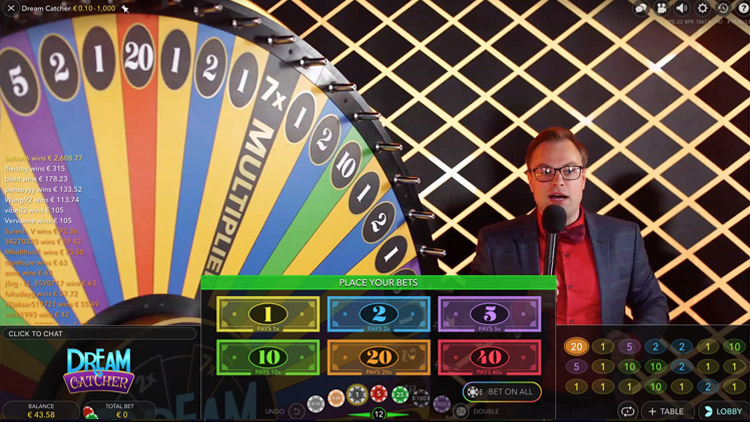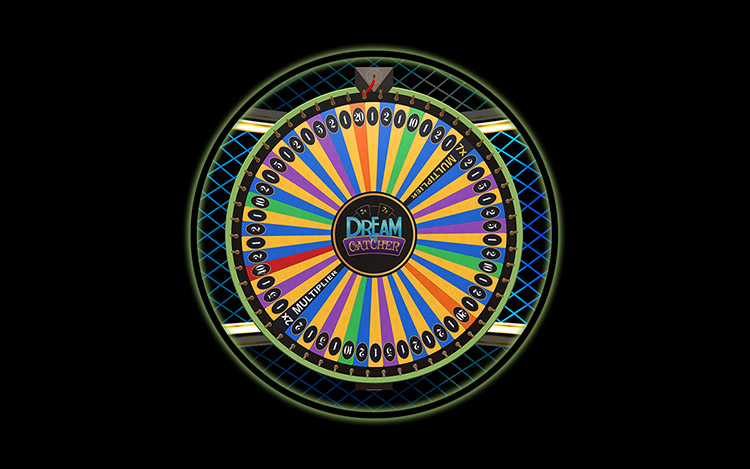 Dream Catcher Game Description
Dreamcatcher is a live casino game offering that presents players with a ton of different opportunities to win some cash. The game takes place in a live studio and is broadcast using state of the art cameras and audio equipment. The wheel itself looks as though it has been ripped ripped straight from a television quiz show. It features a range of bright colors, as well as several bonus options that can help players out during gameplay.
If you are new to live casino gaming, then fear not. Evolution are renowned for producing easy to play titles and this is one of their easiest yet. The live dealers are all incredibly friendly and well-trained and are on hand to help you with any issues that you may encounter.
How to Play Dream Catcher Slot Online
Getting to grips with how to play Dream Catcher really doesn't take too long. The game takes place in a live studio and will be accompanied by a dealer, whose job it is to spin the wheel and keep you involved in the action.
The wheel in the game is divided into 54 equal segments which are in various different colours.52 of the segments will be marked with a number. These numbers are 1,2,5,10,20 or 40, and each of them has a number that matches up with them. The other two segments on the reel have a 2x and 7x multiplier, these are coloured silver and gold respectively.
When the round starts, players must choose the number that they think the wheel is going to land on. The dealer will then spin the reel and you will be paid out if you win. The odds in the game are very easy to remember, as the payout is equal to the number on the reel. For example, landing on 5 pays out 5 to 1, 10 pays 10 to 1, and so on and so forth.
If you are lucky enough to land on one of the multipliers, then during the next spin, your winnings will be multiplied by big amounts. Needless to say, this can lead to some pretty exciting wins if you're lucky.
If you feel like putting your feet up and watching the action unfold, then you can use the game's auto-spin feature. Once you have placed a bet, you can select the autospin option, this will then replay the same bet for as many time as the player wants to choose. The autoplay will continue to spin for the selected number of spins unless you choose to change your bet or your stake. If you do this, the game will revert back to normal after the following spin.
If you want to access this game on mobile devices, then you're luck is in. Evolution and Mega Casino have made sure that this game runs just as well if you decide to use it on your phone or tablet, and will run on both Android and iOS operating systems.
Meet the Dream Catcher Characters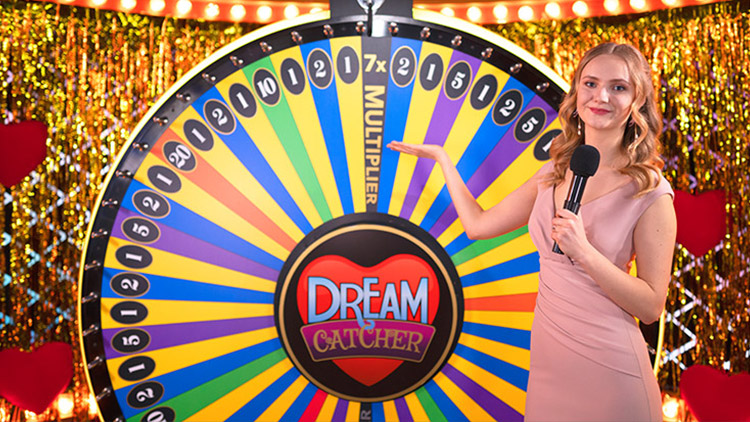 Of course, with Dream Catcher not being a traditional game, and instead being a live casino offering, there are no characters you will encounter in this game. You will, however, get a chance to interact with the game's dealers, who will always be standing next to the wheel during gameplay.
Multiple players may be involved in the game at any time, but the dealers do a fantastic job of making you feel as though you're the only person in the room thanks to their friendly nature. They have years of experience in the casino industry and they are here to not only help, but also to make the game as much fun for you as it can possibly be.
Dream Catcher FAQ
What is the maximum bet for Dream Catcher?
The maximum bet is 1000.
What is the minimum bet for Dream Catcher?
The minimum bet is 0.1.
Can I play Dream Catcher on mobile?
Yes, you can.
What is the RTP of Dream Catcher?
The RTP is 96.58%.
What is the biggest potential win for Dream Catcher?
The biggest potential win is 40000.
Dream Catcher Slot Game on Mega Casino
We like to dream big here at Mega Casino, and we do that by making sure that our players have access to only the best games on the market. Evolution are a market leader when it comes to live-casino software and we are delighted to offer some of their games as part of our catalog. Dream Catcher is one of their most exciting titles yet, and it provides players with a unique and enjoyable gambling experience.