Three card poker takes all of the excitement of a standard game of poker and condenses it down to a simple three-card hand. This fantastic live dealer poker game is a joint effort from the teams at Evolution and Scientific Gaming and is one of the best live poker options we have available here at Mega Casino. It broadcasts live from one of Evolution's studios using high-quality live As well as being a fast-paced live casino game, Three Card Poker online also offers players the chance to place a range of side bets and score some potentially big wins if they can play their cards right.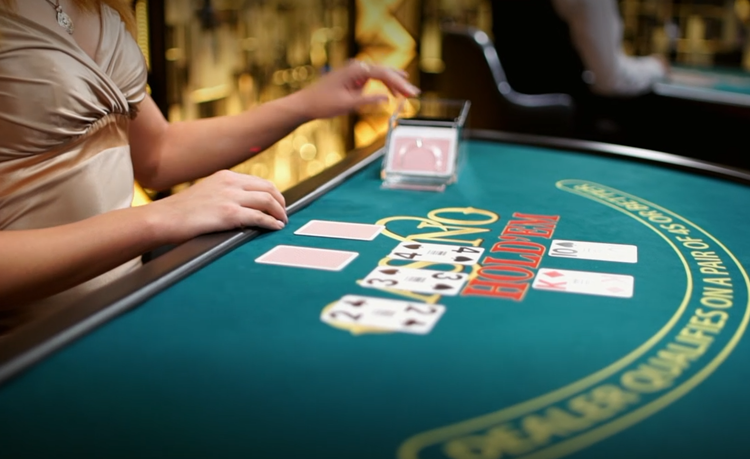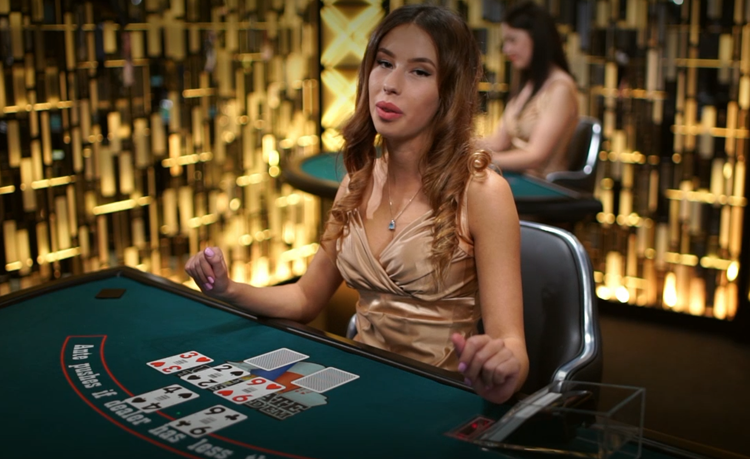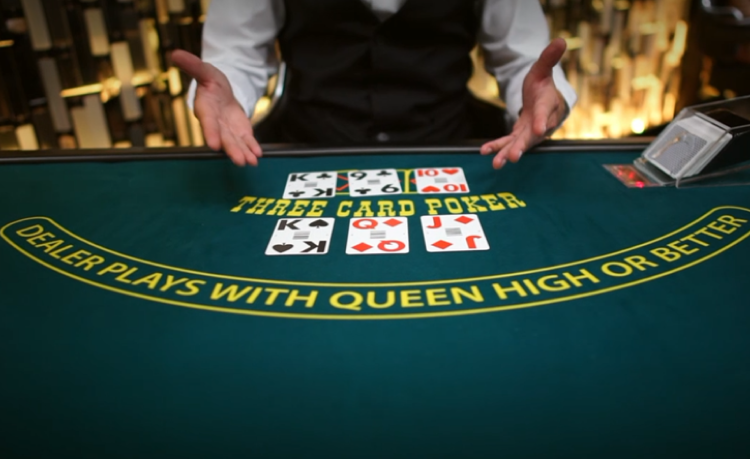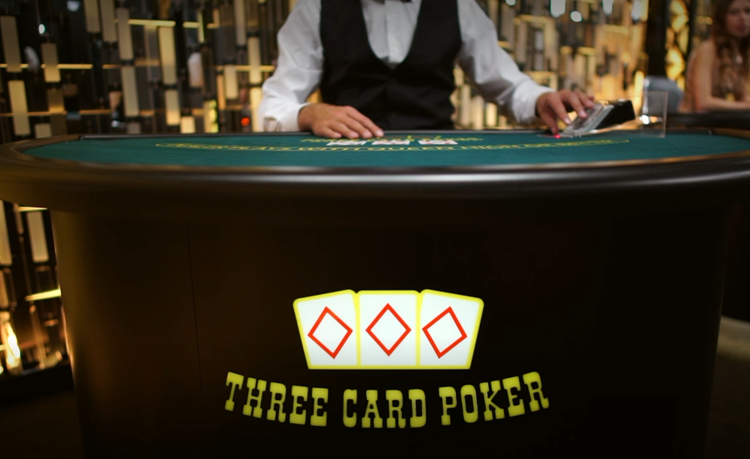 How To Play Three Card Poker - The Basics
Poker is one of the most popular card games of all time, and Three Card Poker is an exciting and fast-paced variation on the classic format. When the game starts, players must place an ante bet, they can also place some optional side bets if they wish. Once that has happened, the dealer will stop taking bets and deal three cards to the player and to themselves. The player will get to see their cards while the dealer's hand is kept face down. The player then gets to make the decision as to whether or not to make a play bet or to fold. The dealer will then reveal their hand. They require a 'Queen's High' or more to play. If the dealer can't play, then the play bet pushes and the ante bet is paid 1:1. If the dealer does qualify, then the best scoring hand between the player and the dealer wins.
Betting Rules in Three Hand Poker
The Ante Bet
The Ante Bet is a mandatory bet that players must play when they first start the game. The aim of the ante bet is to have a better hand than the dealer. Once a player has seen their first hand, they can decide whether to play 1x the ante bet or to fold.
The Pair Plus Bonus Bet
The pair plus bonus bet is a great little side-bet option. If a player bets on this, they must get a pair or better. If they manage this, they will win regardless of the dealer's hand. This bet can only be placed once the ante bet has been placed.
The 6 Card Bonus Bet
This is another fun side-bet that adds a new twist to a round. With this side bet, the aim is for players to make the best five-card hand available using their three card hand the dealer's three cards. This bet will play out on three of a kind or better. Just like the pair plus bonus, players will win if they score this regardless of the dealer's hand.
Three Card Poker Hand Values and Payouts
Three Card Poker is a great card game to play and with all the different bonus bets you can play, keeping up with payouts can lead to some head scratching. Fear not though, as we have devised this handy little payout table that you can refer to at any time to keep up to date with what the game pays for certain combinations.
| Ante Bonus Bet | Pays |
| --- | --- |
| Straight Flush | 5 to 1 |
| Three of a kind | 4 to 1 |
| Straight | 1 to 1 |
| Pair Plus Bonus Bet | Pays |
| --- | --- |
| Mini Royal | 100 to 1 |
| Straight Flush | 40 to 1 |
| Three of a Kind | 30 to 1 |
| Straight | 5 to 1 |
| Flush | 4 to 1 |
| Pair | 1 to 1 |
| 6 Card Bonus Bet | Pays |
| --- | --- |
| Royal Flush | 1000 to 1 |
| Straight Flush | 200 to 1 |
| Four of a Kind | 100 to 1 |
| Full House | 20 to 1 |
| Flush | 15 to 1 |
| Straight | 10 to 1 |
| Three of a Kind | 7 to 1 |
Three Hand Poker by Evolution Gaming
When it comes to live casino gaming, Evolution rules the roost. Since they began operations in 2006, the company has gone from strength to strength, winning plaudits and awards all across the industry. As well as a huge catalogue of classic card and table games including live roulette casino, live baccarat and live blackjack, the studio has also developed some brilliant live TV show games. You can check out a huge selection of Evolution's finest live casino titles right here at Mega Casino.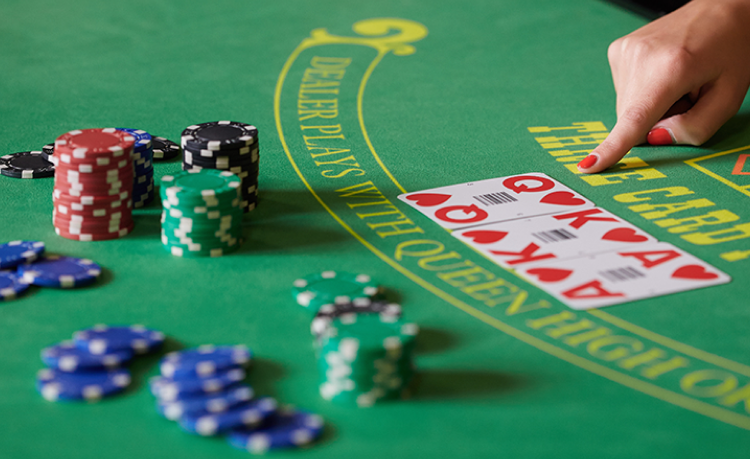 Three Hand Poker FAQ
Can I play Three Hand poker on my mobile device?
Yes. Evolution and Scientific Gaming have developed the game using the HTML5, ensuring that it will run on both mobile phones and tablets. The game's user interface is very well-designed and couldn't run smoother on smaller screens. It is easy to use and maintains all of the gameplay elements that you will find when playing it on a bigger screen.
What is the RTP of Three Card Poker?
The theoretical return to player will depend on what bet you are playing. An ante bet has an RTP of 96.63%, a pair plus bet has an RTP of 95.51%, while a 6 card bonus bet has an RTP of 91.44%.
What times can I play Three Card Poker?
Three Card Poker operates games 24/7, meaning you can log-in and play no matter what time of day it is.
More Live Casino Games at Mega Casino
If you've enjoyed playing Three Card Poker, then you need to check out the other live casino games we have available here at Mega Casino. We work with Evolution and several other high-quality developers to provide our customers with the best and most innovative live dealer casino games on the web. As well as standard card and table games, players can try their luck on live TV game show style titles. This includes great games like Monopoly Live, Dream Catcher and much more.